Olivia Rodrigo announces 'Guts' world tour – but fans will need to pre-register for tickets!
After saying she made the album of the same year with live shows in mind, Olivia Rodrigo has announced a 'Guts' world tour for 2024.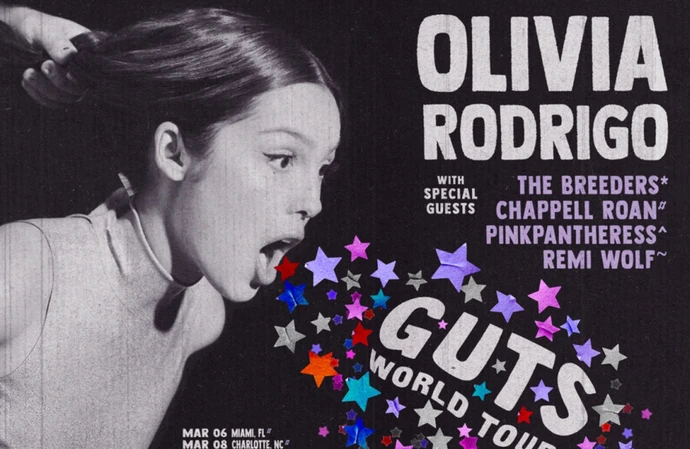 Olivia Rodrigo has announced a 'Guts' world tour to support her second album of the same name – but fans will need to pre-register for tickets.
The 20-year-old singer's 57-date tour will kick off in Palm Springs, California in February 2024, and she will make her way through cities including Houston, Dallas, Miami, Nashville, Chicago, Detroit, and Toronto.
She will then play a two-night run in New York City's Madison Square Garden in April 2024 before travelling to Dublin in Ireland to play at the city's 3Arena, with stops also planned in Glasgow and Birmingham followed by two nights at The O2 in London.
Olivia announced the tour in a post on X on Wednesday (13.09.23) with a post that said: "Soooo excited to announce the GUTS world tour!!!! register for ticket access at https://t.co/BEPJxkxWct and stay tuned for more dates coming soon!!! (four heart emojis.)"
The 'Vampire' singer's tour poster with locations and dates was also revealed on X, showing Olivia's hair being held back as she 'vomited' a stream of multi-coloured stars.
Fans who want tickets for the shows will randomly be selected after they register, and if chosen will be sent a unique link to buy their passes.
They can register for slots now on Olivia's official website, but only until Sunday (17.09.23) at 10pm.
The booking method is being used to avoid bots buying up all of the tickets and reselling them at rip-off mark-ups.
US markets have already been given a hint as to how much their tickets are going to cost.
Live Nation confirmed: "Standard tickets will range from $49.50 to $199.50 plus taxes and applicable fees in the US."
They added additional ticket options will be available including VIP packages and 'Charity Platinum' packages.
The Breeders, Chappell Roan, Remi Wolf and Pinkpantheress will be joining the 'Vampire' singer on the road as support for the tour.
Olivia has said she wrote her critically-acclaimed second album 'Guts' with a tour in mind.
She told Capital FM after it came out a tour of the UK is "in the works", adding: "I think there's a lot of fun songs. I wrote the album with a tour in mind, so I think they're all songs I wanted people to be able to scream in a crowd. Hopefully that's what's achieved."