Britney Spears' divorce 'nothing to do with her or her husband Sam Asghari cheating on each other'
Despite a slew of reports the pair had been unfaithful, a source has insisted Britney Spears' break-up with Sam Asghari had nothing to do with either of them cheating on each other.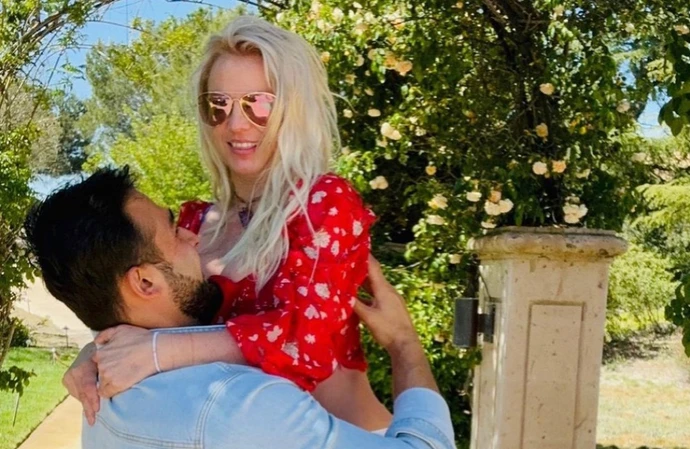 Britney Spears' marriage breakdown reportedly had nothing to do with her or her ex cheating on each other.
The 'Toxic' singer, 41, admitted she was left feeling a "little shocked" when her husband of only 14 months Sam Asghari, 29, filed for divorce from her on 16 August, citing "irreconcilable differences" – which sparked a slew of reports it came after the pair had a huge bust-up after she and Sam had been unfaithful.
There have also been multiple stories since news of the split broke that Britney attacked Sam in his sleep and would hurl knives at the walls of their LA mansion as her behaviour when they were together grew increasingly "erratic".
But a source has insisted to Page Six: "There was no cheating. And he's 6ft 2 and she's 5ft 2, so how could she attack him?"
They added: "The honest truth of it is that it's complicated, this wasn't a whiplash decision, it's been in the works for the past month."
There have also been reports Sam, who is now said to be focusing on his burgeoning acting career, is after a slice of Britney's estimated $60 million fortune despite signing a prenup with the singer that reportedly entitles him to very little of her cash if the marriage was ended before two years.
But Sam's representative Brandon Cohen has said: "There are many claims that Sam is challenging the prenup and threatening to exploit his ex-wife with videos.
"However, all these claims are false, as no negative intention has ever been directed towards her and never will be. Sam has always and will always support her."
A source has told TMZ about Sam's work plans since his split from Britney: "(He's a) SAG-AFTRA member, (and) is planning on continuing with acting gigs when the actors' strike comes to an end.
"In addition to playing characters, he's interested in hosting gigs.
"He wasn't in the middle of any projects before the strike, and obviously has nothing in the pipeline as Hollywood remains shut down, but that's where his head is at."
Sam was working at LA's Royal Personal Training when he and Britney started dating.
An insider told Page Six he's also focusing on "spending time with his family" since he split from Britney and is "mainly taking care of his mum in LA" after she returned from hospital a few weeks ago after being injured in an accident that left her needing emergency treatment.
It's been reported Britney was left alone for weeks on end before her husband Sam filed for divorce as he was regularly away working on filming projects.
One source told Page Six: "Britney wanted a fairytale and she didn't get it. She felt that Sam's love was not unconditional.
"Of course she feels let down…anyone would when your partner is not providing for you in the way you feel you need to be provided for.
"But he was not super present, You only have to ask, 'Where was he when Britney was filming all her Instagram videos?'
"He would just disappear for months to go filming and she would be left all alone. There were times when he would just get up and go."