Kathy Griffin stuns fans by showing off massively swollen lips after getting her MOUTH tattooed!
Following a procedure known as "blushing" that involves getting her lips tattooed to make them look permanently plumper, comic Kathy Griffin stunned fans by showing off her swollen mouth,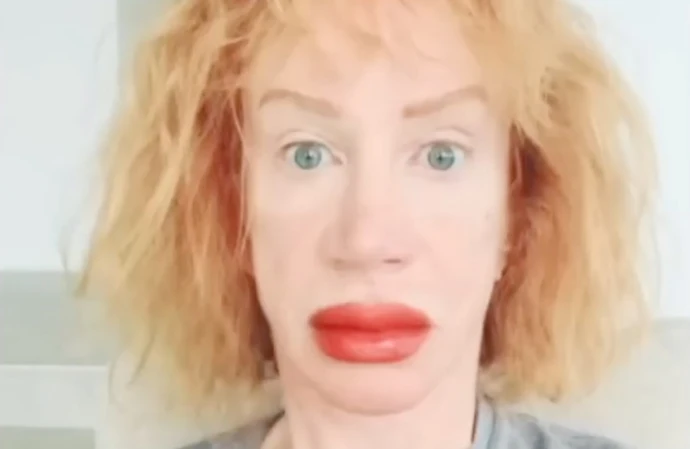 Kathy Griffin has stunned fans by showing off the swollen results of getting her lips tattooed red.
The 62-year-old 'Suddenly Susan' actress showed off the dramatic aftermath of a cosmetic procedure known as "blushing", which uses an inking to create the illusion of plumper lips.
She revealed she'd had it done in a video posted to YouTube, which showed her getting the inking, then showing off the aftermath to her loved ones.
Kathy is seen approaching her actress friend Kristen Johnston, 55, at her home after returning from the cosmetic operation, which was conducted under local anaesthetic, and telling her: "I'm f*****, look at me."
When Kristen exclaims: "What have you done?" and asks if her lips were "real", Kathy adds it was.
Kathy is also seen in the clip walking in on her husband Randy Bick while he's in his study working.
When he lays eyes on her, he says: "S***. It's a little swollen!"
In 2021, the stand-up comedian had part of her lung removed after being diagnosed with lung cancer.
She told fans four months after the procedure she was cancer-free.
In a video posted to TikTok in June, Kathy also detailed having surgery on her vocal cords after going under the knife for lung cancer.
She said in the video: "This is just part of my recovery post-lung cancer surgery.
"I'm cancer-free, so anyway a little scratchy today, but I'll be in good shape."
Kathy has also told how having part of her lung removed was more challenging than she imagined.
She said on her Instagram: "To be honest, this cancer surgery was a little more than I had anticipated."
Referencing her sobriety journey to kick her use of prescription pills, Kathy added in the post: "Tonight will be my first night without any narcotic pain killers. Hello Tylenol, my new best friend!
"With over a year clean and drug free, I now know I can do this and anything I want without those devil pills.
"Y'know what? I fear drugs and addiction more than I fear cancer. So, I think I'll be OK."
In April, Kathy opened up about another ordeal she has been battling for years.
She said in a TikTok video posted in April: "This is going to sound, whatever, you can laugh or whatever, but I've been diagnosed with complex PTSD. They call it an extreme case."
She reassured fans in a caption: "I have lots of tools, but it is extremely intense. I've never experienced anything like this in my life."