'I loved getting beat up my him!' Adam Sandler pays tribute to Bob Barker
Adam Sandler has paid tribute to Bob Barker, almost 30 years after the pair appeared together in 'Happy Gilmore'.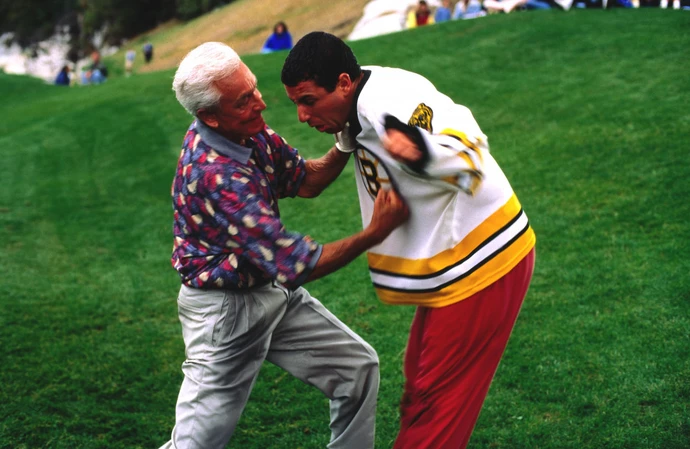 Adam Sandler has paid tribute to Bob Barker.
The 56-year-old actor appeared alongside 'The Price Is Right' host Bob - who died on Saturday (26.08.23) just four months short of his 100th birthday - in a scene in the 1996 comedy 'Happy Gilmore' which sees the pair get into an altercation and joked that he "loved" getting beat up by Bob as he noted that the TV host will be "missed" by everyone.
He wrote on Instagram: "Such a sweet funny guy to hang out with. Loved talking to him. Loved laughing with him. Loved him kicking the crap out of me. He will be missed by everyone I know!"
The legendary TV star - who hosted the iconic game show for a total of 35 years - passed away at his LA from natural causes, according to TMZ.
His representative confirmed in a statement: "It is with profound sadness that we announce that the World's Greatest MC who ever lived, Bob Barker has left us."
Bob suffered an injury in 2019 after taking a spill in his Hollywood Hills home, where he was treated by paramedics and not taken into hospital.
The previous year, Bob was hospitalised in Los Angeles twice within one month because of severe back pain.
The former host also went to the hospital in 2017 after hitting his head in a fall at his home.
Speaking about his long career, he admitted that he had "never" studied speech or aimed for a career on camera before he had been working for a local radio station and ended up as an announcer by chance.
He said during a speech at the Emmys in 2000: "I had never studied speech. I'd never studied drama. I had never been in a school play. I had never been before an audience and I was on duty there as an announcer. Ted Tucker, bless him, didn't show up.
"I didn't even have time to get nervous. I'm out there doing it live."