Sarah Hyland celebrates 'fun marriage' on first wedding anniversary
Sarah Hyland celebrated her 'fun marriage' to Wells Adams and told him she loves him 'more than words can say' on their first wedding anniversary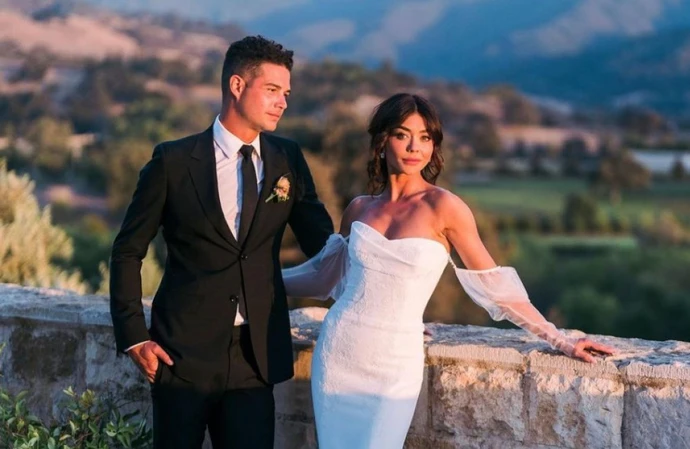 Sarah Hyland has declared marriage to Wells Adams is the is the "most fun" she's ever had on her first wedding anniversary.
The coupled tied the knot in a lavish ceremony at a winery in Santa Ynez, California in August 2022 and over the weekend (19-20.08.23) they celebrated a year since their big day by expressing their love for each other in sweet social media posts.
In an update shared on Instagram, Sarah wrote of her reality TV star husband: "One year married to you flew by in a blink of an eye. You're my HUSBAND. My best friend. My true north.
"I love you more than words can say and every day is the best day when I'm with you. Marriage is most fun I've ever had because I get to be married to you."
Well also celebrated his wife with a post on the site, writing: "Happy first anniversary to my perfect wife. I love you more. Plus one. Anything you say."
It comes after the couple's close friend Jesse Tyler Ferguson - who worked with Sarah on hit TV show 'Modern Family' - urged the pair to enjoy married life "for a few years" before having children.
The 47-year-old actor – who has Beckett, two, and Sullivan, six months, with his husband Justin Mikita – told Us Weekly: "I would say, 'Just be married for a few years.' That's what Justin and I did. We said, 'Let's do, like, five years of just being married, just the two of us, and then we'll talk about kids.' Hopefully that's what they're doing. But if they wanna (get started), I'm here for advice."
Jesse also acted as acted wedding officiant during the couple's big day last year.
Sarah also previously opened up about married life with Wells in an interview with E! News - insisting their relationship hasn't actually changed much since tying the knot because they had such a long engagement after the COVID-19 pandemic forced them to postpone their wedding.
She told the outlet: "We were together for so long and went through a pandemic. "We were engaged for a really long time before we were able to get married, so I think the greatest thing about our marriage is that nothing has changed - other than a woman at a bar seeing his ring."