Britney Spears' wild divorce party
Britney Spears threw a wild divorce party with six male friends after her split from Sam Asghari.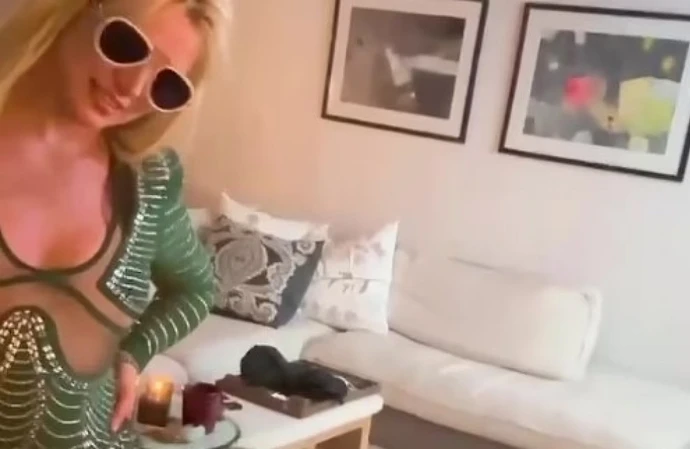 Britney Spears threw a wild divorce party with six male friends.
The 41-year-old popstar - whose husband Sam Asghari, 29, filed for divorce last week after 14 months of marriage - revealed she invited six of her "favourite boys" over to her friend's house for a raucous bash over the weekend.
She wrote on Instagram: "When you go to meet up with a so called 'friend' and drive an hour for chicken !!! Then you have to wait in the car and need to use the bathroom ... I knew paps were tipped off because the car I was in was never used before … so how I was I followed ??? Malibu Canyon Road is the most horrible road ever to drive on ...
"so what does a b**** like me do !!??! I put my green dress on and show up at my friends !!! I invited my fav boys over and PLAYED ALL NIGHT !!! (sic)."
Britney posted video footage of herself dressed in a green dress and white boots as a man licked her leg from the knee to the thigh.
On the video, another voice can be heard saying: "Start at the boot, bro."
The video also featured Britney being held aloft by five shirtless men as she said: "Okay cool!"
Britney also shared a naked video of herself in bed.
Meanwhile, it was recently revealed that Britney is "frantically" rewriting her memoir, 'The Woman in Me' which is due out on 24 October, to include her divorce battle.
A source told the Daily Star she is now set to include an account of the break-up in her book, saying: "To have such a major moment in her life omitted from the book would be senseless. Her fans want to know what was behind the split.
"Britney is keen to ensure she takes control of the narrative, and there is no better way than to say what happened in her own words in her book."
Publishers Simon and Schuster are said by the Star to have started "busily trying to arrange for her to cover the split before the book goes to press" as soon as last week.