Wigging out! Sam Asghari poses in hairpieces as he pleads with fans for help choosing his 'paparazzi disguise'
After filing for divorce from Britney Spears following only 14 months of marriage, Sam Asghari has posed in a series of wigs and asked fans for their help with choosing his "paparazzi disguise".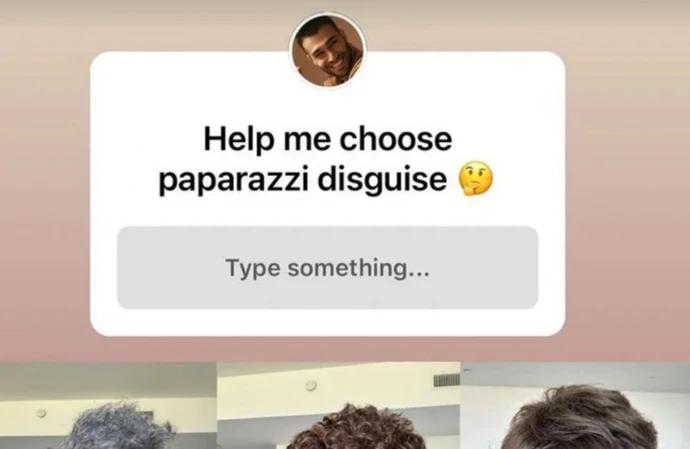 Sam Asghari has asked fans for help choosing his "paparazzi disguise".
The personal trainer-turned actor, 29, who cited "irreconcilable differences" in his 16 August divorce petition against Britney Spears, 41, poked fun at the fallout over the news they were splitting by posting the plea alongside a snap of him in three sets of wigs.
He said on his Instagram Stories on Saturday (19.08.23): "Help me choose paparazzi disguise."
Below his message was a snap showing Sam in three joke disguises, with him sporting a grey wig and moustache in one, a short, curly brown wig with sunglasses in another and a light brown wig as his third option.
Sam listed 28 July 28 as the date of his separation from Britney.
Following the breakup, Sam used his Instagram Stories to announce the separation, saying: "After 6 years of love and commitment to each other my wife and I have decided to end our journey together."
He added "s*** happens" and went on: "We will hold onto the love and respect we have for each other and I wish her the best always."
There has been speculation Sam could miss out on a multi-million dollar payday from his divorce from Britney due to an alleged loophole in their prenup.
He is said to have agreed at the start of their 2022 marriage to get $1 million for every two years of.
But Us Weekly reported he is now set to lose out on the cash as they were only hitched for 14 months before he filed for divorce.
But sources have told TMZ even though the prenup prevents Sam from receiving any spousal support, he could receive a bumper one-off cheque from Britney to prevent him from sharing any "embarrassing" information about their marriage.
Us Weekly added Sam's prenup agreement money was capped at $10 million after 15 years.
An insider insisted in a chat with Page Six Sam is not after Britney's cash, saying: "He admitted publicly he is not fighting (their prenup agreement.) This will be resolved quietly and professionally and soon. That's it."
Us Weekly also claimed that the model-turned-actor waived any claims to Spears' music catalogue in their prenup, and alleged his name is not on the deed of their shared home in Thousand Oaks, California, where they got hitched.
TMZ is also reporting he will get "nothing" but his gifts from the Grammy winner in their divorce.