Justin Bieber NOT breaking up with long-time manager Scooter Braun
After an online report saying the pair had parted ways sent Justin Bieber's fans into a frenzy, it has emerged he is not splitting from the manager who made his career.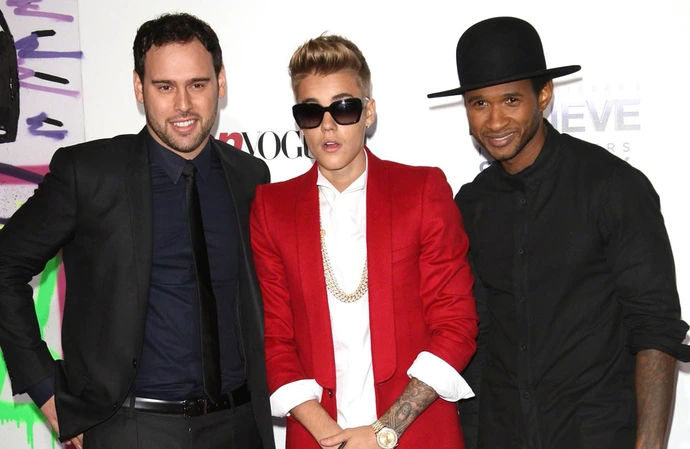 Justin Bieber is not breaking up with his long-time manager Scooter Braun.
Representatives for the 'Baby' singer, 29, and the 42-year-old told Page Six on Friday (18.08.23) they had not parted ways after a report from Puck News sent fans into a frenzy by claiming they had not "spoken in months".
Scooter hasn't directly addressed the rumours, but on Friday posted images of himself on Instagram enjoying a break abroad with friends including Usher, 44, captioning the upload: "Love."
Justin hasn't shared any new pics to his Instagram feed since May 18, when he posted congratulations to his wife Hailey, 26, on the launch of her Rhode UK line, telling her: "Proud of you."
Justin and Scooter were inseparable after the manager discovered the singer's music videos on YouTube in 2006 and went on to help him launch all his chart-topping albums.
Scooter has been in the news in recent years over his ongoing feud with Taylor Swift, 33, over the ownership of her master recordings.
He recently admitted he had learned an "important lesson" from the row, confessing that assuming Taylor would speak to him amid the acquisition came from a "place of arrogance".
He said on NPR's 'The Limits with Jay Williams': "The regret I have there is that I made the assumption that everyone – once the deal was done – was going to have a conversation with me, see my intent, see my character and say, 'Great, let's be in business together.'
"I made that assumption with people that I didn't know… (and) I can never make that assumption again. I can't put myself in a place of, you know, arrogance to think that someone would just be willing to have a conversation and be excited to work with me."
Scooter sold Taylor's masters in 2020 for more than $300 million and she has since been working to re-record her first six albums.