Meghan, Duchess of Sussex 'may have used $2k necklace to pay tribute to family'
Despite reports her and Prince Harry's marriage is in trouble, Meghan, Duchess of Sussex, is thought to have paid tribute to him and their children with a $2,000 necklace she wore to her birthday celebrations.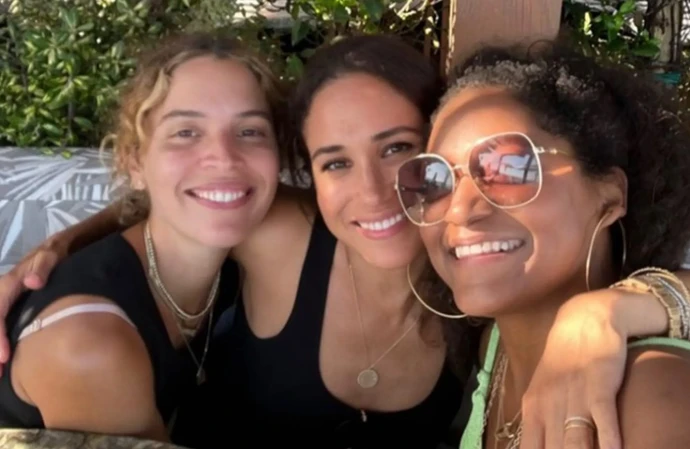 Meghan, Duchess of Sussex, is thought to have paid tribute to her children with a $2,000 necklace she wore to her birthday celebrations.
The former 'Suits' actress, 42, has been celebrating with friends for the last couple of weeks with and without her husband Prince Harry, 38, with whom she has son Archie, four, and two-year-old daughter Lilibet.
In a new photo shared by her pal Myka Harris on Instagram on Tuesday (15.08.23), Meghan is seen pairing a black tank top with a personalized gold pendant.
The Instagram Story was captioned: "Belated bday celebrations w/ these lovely muses."
Page Six has reported Meghan was wears an Ariel Gordon Imperial Disc Pendant Necklace, which sells for up to $2,555, in the pic.
It said royal watchers are speculating that it could include an engraving to her kids as buyers get the option to add special names or phrases to the piece, which can come with. up to three diamonds.
Meghan's necklace has only one diamond, but a fan said she could add two more in tribute to Harry and their two kids as buyers often use the diamonds to mark how many loved ones they have in their lives.
In the photo, the duchess is draping her arms around celebrity hair colourist Kadi Lee, who runs beauty and wellness brand Highbrow Hippie along with Harris, and poet Cleo Wade at an outdoor table as the three beam at the camera.
Celeb hairstylist Serge Normant, who styled the royal's hair for her May 2018 wedding, was also tagged in the photo, with Harris adding, "missing sweet @sergenormant".
Harry was recently said to be missing his wife "very much" during his Asia tour.
The duke was said to be pining for Meghan while on his travels by his long-term polo-playing friend Ignacio 'Nacho' Figueras.
Ignacio, 46, whose wife is Argentine socialite Delfina Blaquier, 42, told the Daily Telegraph about their Asia trip: "We miss our wives very much. This was a very short trip. Although it's a few days, it's a lot of travelling for 24 hours in Japan and a few hours here, but we miss them.
"We wish they were here."
His comments came after Meghan was photographed wearing a $4 anti-stress patch that is said to give users "resonance" and "frequencies" to achieve calm.
The former 'Suits' actress was photographed wearing the circular patch on her left wrist as she attended an appointment in her hometown of Montecito, where she and Harry have a $14 million mansion, on Thursday (10.08.23) with a bodyguard by her side.
Harry has been away from Meghan while on tour to visit a sports summit and to promote the Sentebale charity he founded to help young people in southern Africa.
He also recently travelled on his own to King Charles' coronation in May – with their time apart sparking widespread reports the duke and duchess' marriage is in trouble.
A source previously told Page Six there is no truth in reports and rumours Harry and Meghan's relationship is in trouble.
One said: "It's not true. It's literally made up."