Emma Heming Willis tells husband Bruce's daughter Rumer she loves her on 35th birthday
As she continues to care for dementia-stricken husband Bruce Willis, model Emma Heming Willis paid tribute to his daughter Rumer on her 35th birthday by calling her "my sweet".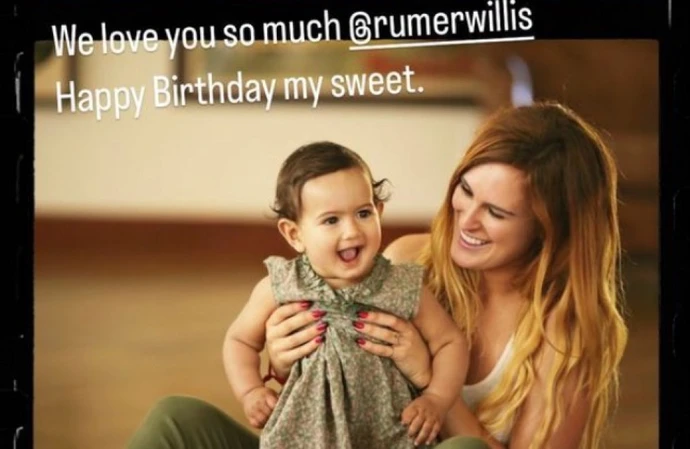 Emma Heming Willis has paid tribute to her dementia-stricken husband Bruce Willis' daughter Rumer on her 35th birthday.
The 45-year-old model is devoting her life to caring for 'Die Hard' actor Bruce, and told Rumer – who the actor had with his ex-wife Demi Moore, 60 – she loved her in a post to mark her landmark age on Wednesday. (16.08.23)
She captioned an image that showed 'Chicago' actress Rumer holding who is thought to be one of Emma and Bruce's kids: "We love you so much @rumerwillis. Happy birthday my sweet."
Emma shared the post after telling fans she was "not good" as she struggles with life as Bruce's carer.
In one of her latest Instagram messages, she also urged fans to check their "brain health".
She reposted an advertisement directed at women that said: "10 questions every woman should ask their doctor about brain health".
It included the first question from the quiz which was: "What lifestyle habits will protect my brain health throughout life?"
Emma said: "This is going to be an interesting series to follow! It's so important to talk to your doctor about brain health because I'm pretty sure he's not addressing it with you."
Emma, who has daughters Mabel, 11, and Evelyn, nine, with Bruce, posted her plea a day after saying she was struggling with her journey as a carer.
She also urged fellow "care partners" to "look for something beautiful" in their otherwise "hard," "stressful" days and send her photos of their lives.
Emma added in her Instagram post: "I know it looks like I'm out living my best life, (but) I have to make a conscious effort every single day to live the best life that I can. I do that for myself, I do that for our two children and (I do that for) Bruce, who would not want me to live any other way.
"So I don't want it to be misconstrued that I'm good, 'cause I'm not. I'm not good."
The model said her thinking can often become "doom and gloom" and said putting her "best foot forward" is a daily task that "does not come to (her) easily".
Emma added: "When we are not looking after ourselves, we cannot look after anyone that we love."
In March, Emma marked her 14th wedding anniversary to Bruce by posting photos and a video to mark happy moments since they got hitched.
Alongside a photo of a bouquet of flowers she received from a friend, Emma wrote on her Instagram: "Today marks 14 years of marriage to the greatest love of my life. I woke with my heart full but what my mind kept going back to was another person's act of kindness yesterday I wanted to share as it inspired the heck out of me."
Bruce marked turning 68 on March 19 while surrounded by his children Rumer, Scout, 32, and Tallulah, 29, who he has with actress Demi.
The star retired from acting last year due to the brain disorder aphasia affecting his ability to understand language, and in another update on his health last month, his family said he had been diagnosed with frontotemporal dementia, which affects behaviour, problem-solving, planning and emotions.