Jeremy Renner uses oxygen chamber amid recovery
Jeremy Renner has revealed that he's been using a hyperbaric oxygen chamber amid his ongoing recovery.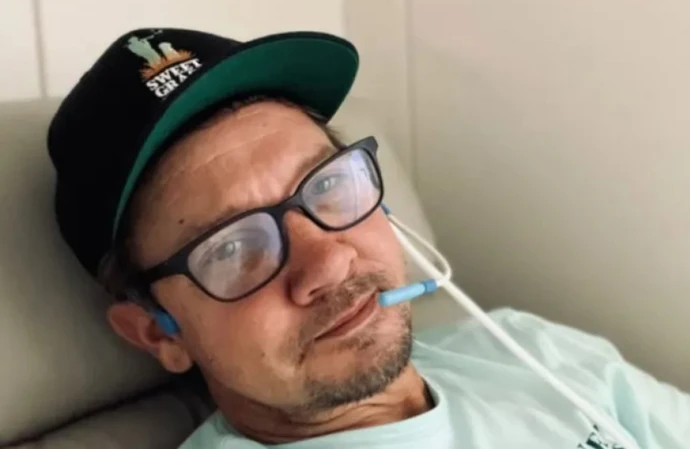 Jeremy Renner has been using a hyperbaric oxygen chamber as he continues his recovery from his near-death snowplow accident.
The 52-year-old actor was hospitalised on New Year's Day (01.01.23), after he suffered blunt chest trauma and 30 broken bones after being hit by a snowplow, and Jeremy has now taken to social media to reveal that he's still receiving hyperbaric oxygen therapy, which has can be used to treat multiple medical issues.
Alongside a photo of himself receiving the treatment, Jeremy wrote on Instagram: "Hyperbaric chamber, 2 atmosphere pressure, high oxygen, 2x daily (sic)"
The hyperbaric oxygen chamber enables patients to breathe pure oxygen.
As a result, the oxygen gets through to the bloodstream and into tissues quicker, which in turn speeds up the healing process.
Jeremy previously took to social media to thank fans for their encouraging messages.
The Hollywood star also revealed that he was working out every morning in a bid to return to full health.
Jeremy - who played the part of Hawkeye in the Marvel Cinematic Universe - wrote on Instagram: "Morning workouts, resolutions all changed this particular new years …. Spawned from tragedy for my entire family, and quickly focused into uniting actionable love [heart emoji] I want to thank EVERYONE for their messages and thoughtfulness for my family and I …. Much love and appreciation to you all. These 30 plus broken bones will mend , grow stronger, just like the love and bond with family and friends deepens . Love and blessings to you all. (sic)"
Meanwhile, Kym Renner - Jeremy's sister - also revealed that she was encouraged by her brother's progress.
She told PEOPLE: "We are so thrilled with his progress.
"If anyone knows Jeremy, he is a fighter and doesn't mess around. He is crushing all the progress goals. We couldn't feel more positive about the road ahead."