Zooey Deschanel engaged to Jonathan Scott: 'Forever starts now!!!'
After dating the TV host since 2019, Zooey Deschanel is engaged to Jonathan Scott.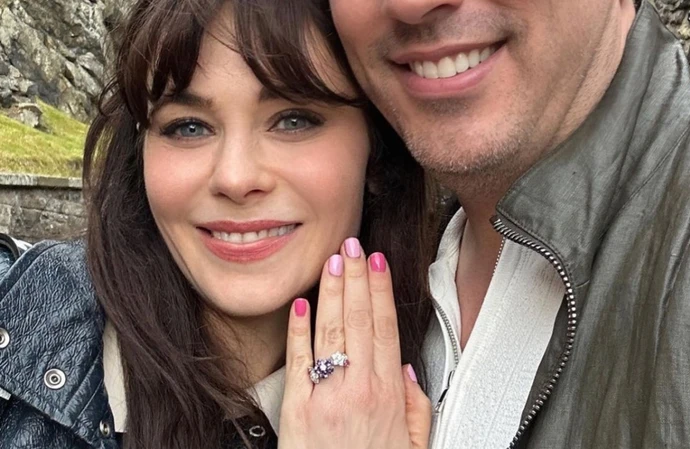 Zooey Deschanel is engaged to Jonathan Scott.
The 'New Girl' actress, 43, has been dating the 'Property Brothers' host, 45, in 2019, and announced on her Instagram on Monday (14.08.23) she's now his bride-to-be.
She captioned a selfie of her flashing her diamond engagement ring and cuddling up to Jonathan with the caption: "Forever starts now!!!"
Her band features three colourful stones in a flower pattern.
Jonathan popped the question on Sunday (13.08.23) during a family vacation in Scotland, according to People.
The outlet added Zooey's daughter Elsie, eight, and son Charlie, six, who she had with her ex-husband Jacob Pechenik, 51, played a role in organising the special moment.
Zooey and Jonathan first met while they were filming an episode of James Corden's 'Carpool Karaoke' with their siblings, Emily Deschanel and Drew Scott.
The pair were then spotted holding hands the following month, one week after Zooey revealed she was splitting from Jacob, who she married in 2015.
They confirmed their romance in October 2019 when they shared a kiss during a taping of 'Dancing with the Stars'.
The pair's bond strengthened during the Covid lockdowns, and spent them sharing glimpses into their lives with fans on social media including at-home haircuts.
Zooey called her beau the most "kind, caring, hilarious, generous, creative, nerdy, handsome and all around incredible human" in a tribute for their first anniversary, which came amid the pandemic.
She said on Instagram: "I am so grateful for every smile, kiss, hug, snuggle, laugh, scrabble game, escape room, breakfast, lunch and dinner we share together.
"Even during the weirdest year for humanity I want a million billion more with you."
Jonathan said on 'Entertainment Tonight' in August 2021 about the actress: "We just celebrated our second anniversary … and I know I am dating up."
He added he plans to "keep raising the bar and keep up with those expectations".
The couple bought a home together in 2020 for $9.5 million and completed renovations on the five-bedroom Georgian revival two years later.
Before getting wed to Jacob, Zooey was married to Death Cab for Cutie frontman Ben Gibbard, 47, from whom she split in 2012 after a three-year marriage.
Jonathan was previously married to flight coordinator Kelsy Ully.