Prince Harry 'missing Meghan very much on Asia trip' – as Duchess is spotted wearing 'calm patch' on wrist
Prince Harry's best pal was said to be missing his wife Meghan, Duchess of Sussex "very much" on his trip to Asia – as the former actress was spotted wearing a "stress patch" at home in California,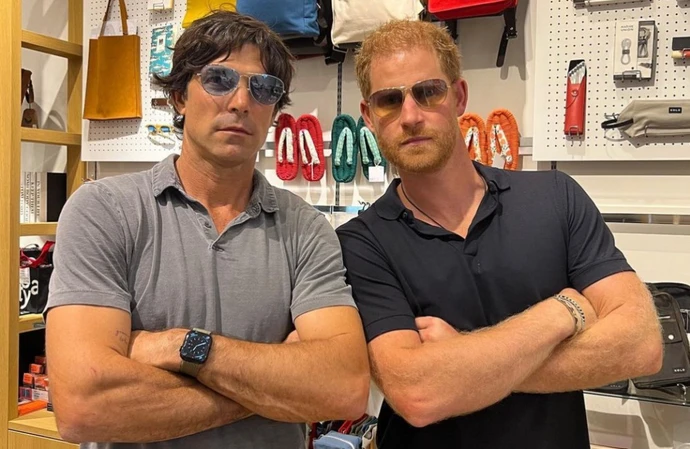 Prince Harry misses his wife "very much".
The Duke of Sussex, 38, is said to be pining for Meghan, Duchess of Sussex, 42, while on his visit to Asia – after the former actress was spotted in California wearing a "stress patch".
Harry's travel companion and long-term pop playing friend Ignacio 'Nacho' Figueras, 46, whose wife is Argentine socialite Delfina Blaquier, 42, told the Daily Telegraph about joining Harry on his trip: "We miss our wives very much. This was a very short trip. Although it's a few days, it's a lot of travelling for 24 hours in Japan and a few hours here, but we miss them.
"We wish they were here."
His comments came after Meghan, who has son Archie, four, and two-year-old daughter Lilibet with Harry, was photographed wearing a $4 anti-stress patch that is said to give users "resonance" and "frequencies" to achieve calm.
The former 'Suits' actress was photographed wearing the circular patch on her left wrist as she attended an appointment in her hometown of Montecito, where she and Harry have a $14 million mansion, on Thursday (10.08.23) with a bodyguard by her side.
Harry has been away from Meghan while on tour to visit a sports summit and to promote the Sentebale charity he founded to help young people in southern Africa.
He also recently travelled on his own to King Charles' coronation in May – with their time apart sparking widespread reports the duke and duchess' marriage is in trouble.
Harry and Nacho were also seen shopping for their wives on his Asia tour.
Nacho posted an image of them posing with folded arms and sunglasses at a store in Tokyo on Thursday (10.08.23) on his Instagram, which he captioned: "Shopping for our wives (smiling-with-sunglasses emoji.)"
Referring to Harry's Sentebale charity – which helps children and adolescents in South Africa struggling to come to terms with their HIV status – added: "A big thank you to Tokyo for your generous hospitality and kindness towards us. And of course, for your continued support of @sentebale!"
A source told Page Six about the pair's shopping spree Harry had "so much fun" and didn't bother to cover his identity".
It was reported on Wednesday (09.08.23) Meghan attended one of Taylor Swift's 'Eras Tour' gigs while her husband Harry went on his Asia tour.
Page Six said the former 'Suits' actress was "jamming out" to Taylor's tunes at the singer's latest concert in Los Angeles on Tuesday (08.08.23) night as Harry, visited Tokyo.
Harry told a crowd at the International Sports Promotion Society's 'Sports Values Summit Special Edition' event he would "happily live here if you'd have me".
Meghan recently celebrated her 42nd birthday early without Harry by seeing the 'Barbie' film with her friend Portia de Rossi and other pals.
A source previously told Page Six there is no truth in reports and rumours Harry and Meghan's relationship is in trouble.
One said: "It's not true. It's literally made up."