Donald Trump warned not to intimidate witnesses ahead of 2020 election plot trial
Ahead of a trial that could be set for the New Year, Donald Trump has been warned not to intimidate witnesses ahead of his hearing on criminal charges of allegedly plotting to overturn the 2020 US election.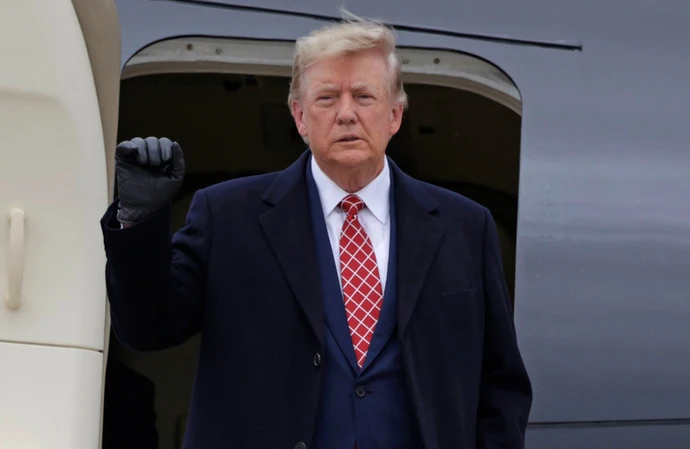 Donald Trump has been warned not to intimidate witnesses ahead of his trial on criminal charges of allegedly plotting to overturn the 2020 US election.
The former US president, 77, was arraigned for a record third time on 1 August and has pled not guilty to four charges against him related to the 6 January Capitol riot and his alleged bid to stay in power.
Lawyers for Trump and federal prosecutors appeared in a federal courtroom on Friday (11.08.23) morning to discuss what restrictions could be imposed before his trial, where he was slapped with restrictions on what he could say before the proceedings.
US District Judge Tanya Chutkan warned Trump's team: "Even arguably ambiguous statements by the parties or their counsel – if they can be reasonably interpreted to intimidate witnesses or to prejudice potential jurors – can threaten the process.
"I caution you and your client to take special care in your public statements about this case. I will take whatever measures are necessary to safeguard the integrity of these proceedings."
She added: "The defendant and defense counsel shall not disclose Sensitive Materials or their contents directly or indirectly to any person or entity other than persons employed to assist in the defense, persons who are interviewed as potential witnesses, counsel for potential witnesses, and other persons to whom the court may authorize disclosure."
The judge also ruled the protective order will only apply to "sensitive" materials and not all discovery in the case as the government had requested.
She said: "Mr Trump, like every American, has a First Amendment right to free speech. But that right is not absolute."
Trump, who is the front-runner in the 2024 Republican presidential nomination race, could face a combined maximum sentence of 55 years in prison if he's found guilty.
The trial is still months away and it has been proposed jury selection starts in December so a trial could get underway just after the new year.
Trump claimed he's being "persecuted" after he pled not guilty to the criminal charges against him.
He remains free on the condition that he does not communicate with witnesses in the case.
The scandal-plagued former leader's four counts in connection to his involvement in the events of January 6, 2021, include conspiracy to defraud the American government and obstruct the electoral count for trying to overturn the 2020 election.
A 45-page indictment states the former 'Apprentice' judge was "determined to remain in power" despite having "lost" his leadership.
Trump has denied his involvement in the events of 6 January that saw his supporters storm the Capitol Building in Washington D.C., leaving five people dead and others injured.
He is also currently facing federal charges in Florida stemming from his mishandling of classified docs after he left office.
Trump made history in April when he became the first US president to be charged with a crime after leaving office, when the Manhattan district attorney's office indicted him on charges related to hush money payments he made prior to the 2016 election.