King Charles' coronation marked with release of free London Mint coin
Days after he was crowned at London's Westminster Abbey, King Charles' coronation is being celebrated with the release of a free coin.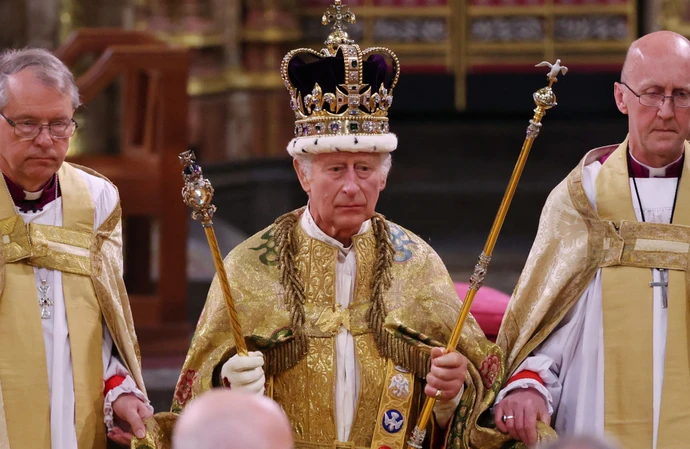 King Charles' coronation is being celebrated with the release of a free coin.
The London Mint Office has announced the release of its 'Official Coronation of King Charles III' coin after the 74-year-old monarch was crowned on 6 May.
The limited edition coin is dated and bears a new effigy of Charles by sculptor Raphael Maklouf, 85, and features a Westminster Abbey design.
Dame Joanna Lumley, 77, who is a fan of the creation, said: "I think it's beautiful because it shows a sort of wisdom and gentleness of a mature and brilliant King."
Royal fans only need to pay a £2.50 delivery fee when they order the commemorative coin from the Mint office.
It said in a statement: "We are proud to commemorate this momentous occasion and put history in the hands of our customers today."
Dame Joanna was seen in footage released in April pressing one of the Tower Mint's first commemorative coins of Charles ahead of his coronation.
As she held up the 22-karat gold coin to cameras she told ITV London: "I think it's just so thrilling, to see this little first gold sovereign being printed on this little flat bit of solid gold – isn't that just enchanting?"
Sculptor Raphael, best known for creating an effigy of Queen Elizabeth II used on the coins of many Commonwealth nations, said about one challenge he had to overcome in creating the new design for Charles: "The ears – they come out quite a bit – so it's an illusion, so that was quite a difficult thing to do."
The coin release comes as it was said Charles dislikes the idea of living at Buckingham Palace.
He has access to more than 30 privately owned residences, but reportedly favours smaller options instead of the iconic London residence.
Ingrid Seward, editor-in-chief of Majesty magazine and the author of multiple royal biographies, told The Times: "Maybe in the end he will have to move into Buckingham Palace, but I don't think he wants to.
"Buckingham Palace is so huge and impersonal and red, with red carpets and curtains. It's not his style.
"He may decide that it should be available to the public all year round."
Hugo Vickers, a royal historian and author of a biography on the Queen Mother, added Charles would run his office out of the Palace and use it for state occasions but had no desire to live there.
He added to the Times: "I think you'll find that he'll stay at Clarence House, which even (Queen Elizabeth) wanted to do, but Winston Churchill made her go to Buckingham Palace."