'She only had 40 minutes!' Swizz Beatz recalls being late for his first date with Alicia Keys
Swizz Beatz was late for his first date with Alicia Keys, even though she only had 40 minutes to spare for their first meeting.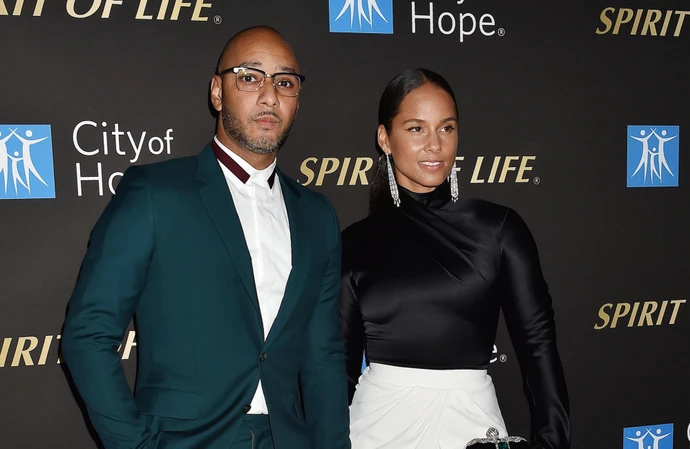 Swizz Beatz was late for his first date with Alicia Keys.
The 44-year-old record producer - whose real name is Kasseem Dean - has been married to the 'If I Ain't Got You' songstress since 2010 and revealed that after meeting through a mutual friend when they were in high school, he finally got to take her on a date when she was an accomplished singer but failed to be on time for their meeting even though she had little more than half an hour to spare.
Speaking on 'The Jennifer Hudson Show', he told the former 'American Idol' winner: "Her best friend was a rapper in my class and she always used to say 'You've gotta meet Alli, you're doing music, she's doing music!' One day she finally came to pick up from school and she was like 'Swiss, come here, this is Alli!'
"I remember she had on a purple Columbia jacket, she looked hotter than me! I didn't get her number, though. She was playing very hard to get but I finished up strong! So she has a busy schedule and I remember I was going on this date. It was hard to get on the date, she's like 'Okay, well I have 40 minutes to spare out of my day', so I get there and I'm late."
Swizz - who now has Egypt,14, and eight-year-old Genesis with Alicia but also has Prince, 22, Kasseem 16, as well as 14-year-old Nicole with ex-wife Mashonda - went on to add that he gave her a dud gift of luxury sunglasses but she later discovered the reason for his lateness was that he was trying to tie "something special" to the top of her truck.
He added: "I had a gift of some Louis Vuitton glasses and she was like 'You're late and you have Louis Vuitton glasses? You must not know who I am!'
She later found out why I was late. I was late because I was tying a gift that I bought her onto the top of her truck. It was a mess! But she called and I said 'Yeah, I got you something special for real, it wasn't the glasses."