Catherine, Princess of Wales, praised for 'solid' darts skills
Catherine, Princess of Wales, has been praised for her "solid" darts skills after a visit to Birmingham.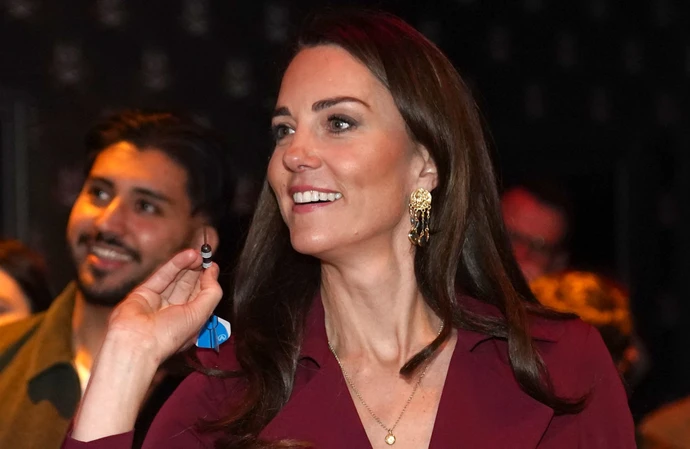 Catherine, Princess of Wales, has been praised for her "solid" darts skills.
The 41-year-old royal and her husband, Prince William, stepped up to separate oches during a visit to The Rectory bar's 180 Club while touring Birmingham's Jewellery Quarter on Thursday (20.04.23) and the princess proved to have talent when it comes to throwing arrows.
Akash Bhardwaj played darts in the same booth as Catherine and said the royal visitor's throwing action was "very solid".
The creative and branding manager added to the Daily Telegraph newspaper: "For people who are nervous, they got rid of that. She was incredible, to be honest.
"They came across as people like us. Most importantly she had an interest in what Birmingham is offering."
Robert Wood, who owns nearby bar Lucky 7, praised the couple's visit and clear interest in the creative arts.
He said: "It's something they feel deeply about. I think events like this are really great.
"Not only to have them show an interest in us but also for us to meet each other as well."
'This Morning' presenter Alison Hammond was left "buzzing" when she met William and Catherine on their visit to the pub.
She shared a selfie with the royal couple and tweeted: "I'm still buzzing from this moment today , such down to earth lovely couple . Had the best time in Brum with these two [heart emoji] @KensingtonRoyal (sic)"
During their visit to Birmingham, Catherine and William visited the Indian Streatery restaurant - and the Prince of Wales answered the eatery's phone to take a booking for the afternoon.
A video shared on Twitter showed him picking up the phone at the restaurant and after telling the customer they couldn't eat "right now", he said a place for two people at 2.30pm would be "absolutely fine", adding: "We'll see you at quarter past two."
William then told staff about the directions he gave: "He knows where you are now – I probably sent him somewhere else in Birmingham so I apologise."
By the time husband and wife Vinay Aggarwal and Ankita Gulati arrived to eat, the prince and his wife had moved on to another engagement, and they were stunned to find out it was the royal who took their booking.
Software engineer Vinny said he had "no idea" it was William on the phone, adding: "It's pretty amazing and a surprise. I didn't know at that moment, but it's a very nice surprise.
"Obviously (I will be telling everyone), it's not something that happens often.
"I didn't recognise his voice at all, this is the first time I was listening to him on the phone, so I genuinely thought someone was taking the booking for me."
Restaurant owner Meena Sharma said: "All of us around him were really surprised he actually picked up the phone and actually said 'this is the Indian Streatery', and there was a genuine person on the other end wanting to make a booking.
"But I think he probably could have a role as a front of house manager, we could probably employ him to take phone calls in future as he did a really good job."