Jennifer Aniston: Adam Sandler is one of my favourite people
Jennifer Aniston and Adam Sandler bonded over their shared "weird sense of humour".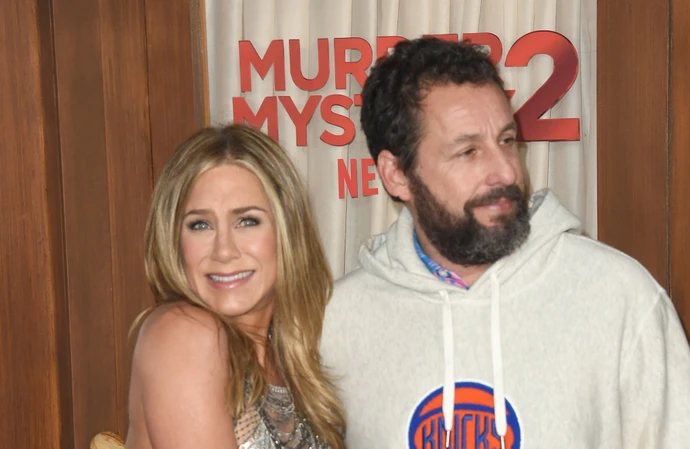 Jennifer Aniston has gushed that Adam Sandler is one of her "absolute favourite people in the world".
The Hollywood co-stars have been pals since their early twenties and starred alongside each in three films, including their latest 'Murder Mystery 2', and the former 'Friends' star says having the "same weird sense of humour" is why they get along so well.
Speaking to Best UK magazine, she said: "It comes from us just being us, I think. We have been friends for more than 30 years. We met at Jerry's Deli on Ventura Boulevard when we were 20 and 22 and we have been friends ever since. This is the third movie we have got to do together, and Adam is always a joy to work with, as well as being one of my absolute favourite people in the world.
"We make each other laugh. We have the same weird sense of humour. That's always a good thing."
She added: "I am so happy we got to work together, and that we got to do it all again on this movie."
Jennifer recently admitted Adam calls her out on her dating choices.
The 54-year-old actress - who was previously married to Brad Pitt and Justin Theroux - revealed Adam, 56, has been known to question some of her romantic decisions over the years.
Appearing on 'The Tonight Show', she told host Jimmy Fallon: "If I get anything from him, it's 'What are you doing?' Usually based on someone I'm dating."
It's not all one-sided though, as the sitcom legend pointed out that she is more than happy to help him out too.
She added: "I very much love to take care of him. He's so concerned with taking care of everybody else, which he really does, and he doesn't take care of himself."
Pausing for a moment, she continued: "I'm sorry to call you out on national television, Adam, but you have to know this.
"And I have a little arsenal of herbs in my trailer, and I make him smoothies when I can and give him all sorts of Chinese herbs when he's exhausted.
"I'm like the mobile pharmacy. I'm the set medic."
Jennifer admitted Adam's wife Jackie Sandler tells her that him taking her advice lasts "about a minute".