'He's brought us so much joy!' DWTS star Peta Murgatroyd welcomes 'newest member' of family
Peta Murgatroyd has taken to social media to reveal the "joy" she has felt since welcoming the newest member of her family.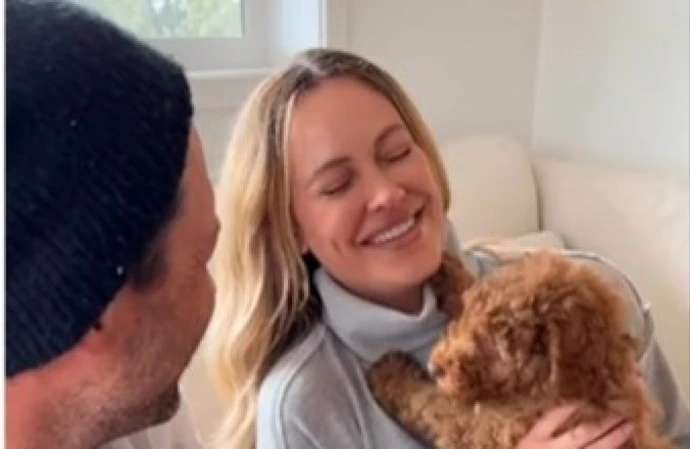 Peta Murgatroyd surprised her son by gifting him a puppy.
The 36-year-old star is mother to six-year-old son Shai with husband and fellow 'Dancing with the Stars' professional Maksim Chmerkovski,43, and is expecting another child with him but took to social media on Thursday (13.04.23) to reveal that they had welcomed the "newest addition" to their family in the form of a puppy.
Alongside a video showcasing her son meeting the puppy as a surprise, she wrote on Instagram: "Meet our newest family member Hachi Chmerkovskiy [dog emoji]
This little guy has brought so much joy into our lives these past 2 days with oodles of kisses and licks and an uber playful temperament….(also lots of poops, pees and cries at night)
Shai is obsessed and we let him take the lead on naming the puppy. We probably bit off more than we can chew with another actual human arriving soon, but hey there is never a perfect time right? Lol"(sic)
The couple's new arrival comes amid the long-awaited pregnancy which followed a series of miscarriages over the course of two years as Maks gushed about the "incredible news" and explained that he "cannot wait" to become a dad for the second time.
In January, he told UsWeekly: " [It's] incredible news. Long time coming. We've been waitingto have this baby for, you know, over two years now ... I cannot wait. If we're gonna attribute, you know, certain things that happen or don't happen to our bodies based on stress, you could understand what Peta was going through as well."