Jamie Lee Curtis weeps her Oscar trophy is non-binary: 'I won a they/them!'
Jamie Lee Curtis is referring to her Best Supporting Actress Oscar statue as "they/them" in tribute to her transgender daughter Ruby.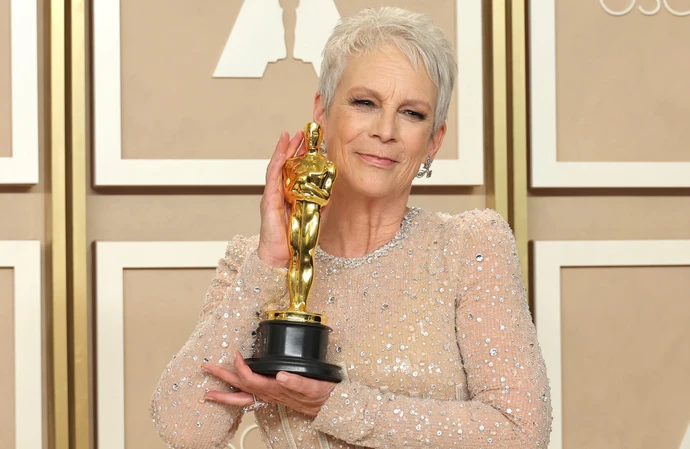 Jamie Lee Curtis has tearfully told how she has decided to call her Oscar trophy "they/them" in honour of her transgender daughter Ruby.
The 'Halloween' actress, 64, scooped Best Supporting Actress for her role in the multi-Oscar winning 'Everything Everywhere All at Once' during Sunday's (12.03.23) 95th Academy Awards, and started sobbing during a video link appearance on the 'Today' show on Tuesday (14.03.23) while watching her acceptance speech back for the first time.
She wiped away tears as she told hosts Savannah Guthrie, 51, and Hoda Kotb, 58, after the footage of her emotion-filled moment of victory was played: "I hadn't watched that. So, that was the first time I've seen it."
Jamie – who has adopted daughters Ruby, 27, and Annie, 36, with her 75-year-old husband Christopher Guest – added as she held up her Oscars statue and declared it was non-binary: "Here they are! In support of my daughter Ruby, I'm having them be a they/them. I'm just going to call them 'them' – they/them. And they are doing great. They are settling in."
Jamie first revealed Ruby was transgender in 2021, and told AARP magazine she and Christopher had "watched in wonder and pride as our son became our daughter Ruby'.
Jamie also said after Sunday's Oscars about having gender-neutral awards categories, and the inclusivity challenges that would come with the move: "Obviously I would like to see a lot more women be nominated so that there's gender parity in all the areas and all the branches, and I think we're getting there.
"We're not anywhere near there. And of course, the inclusivity then that involves the bigger question, which is, how do you include everyone when there are binary choices, which is very difficult.
"As the mother of a trans daughter I completely understand that."
Jamie also warned: "And yet, to de-gender the category, also, I'm concerned (that) will diminish the opportunities for more women, which is something I also have been working hard to try to promote.
"So it's a complicated question, but I think the most important thing is inclusivity and more women."