Brendan Fraser's sons 'unbelievably proud' of Oscar-nominated dad
Brendan Fraser's three sons accompanied him on the Oscars new champagne-coloured carpet, and said they were "unbelievably proud" of him for landing a Best Actor nomination for his role as morbidly obese teacher Charlie in 'The Whale'.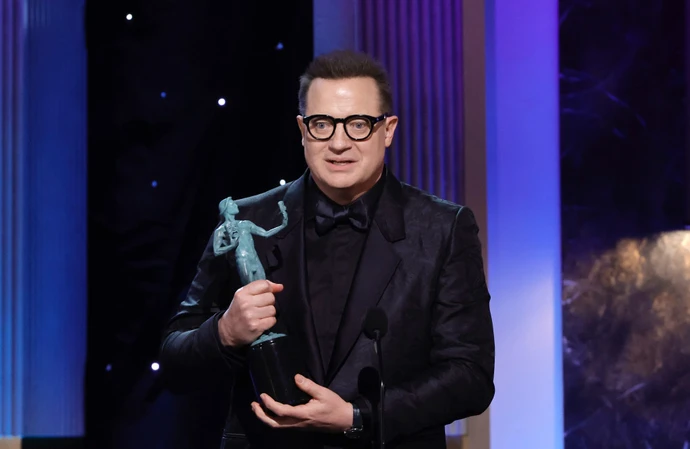 Brendan Fraser's sons are "unbelievably proud" of their Oscar-nominated dad.
The 54-year-old actor is up for Best Actor at Sunday's (12.03.23) Oscars for playing morbidly obese teacher Charlie in Darren Aronofsky's 'The Whale', and his boys Leland, 16, Holden, 18, and 20-year-old Griffin – who he has with ex-wife Afton Smith – were with him on the new champagne-coloured carpet of the 95th Academy Awards.
Brendan was also accompanied to the Oscars by his girlfriend Jeanne Moore to the event, and his son Holden told E! about his nomination: "We are unbelievably proud. Over the moon."
Brendan told Extra how his three sons helped make the moment he was nominated more special, saying: "Astonishment and surprise, because my kids surprised me with cake and balloons.
"They sneaked into the house, they had a plan. That and the feeling that sharing that moment with my loved ones is now a core memory of mine."
The actor recently told how his career has changed since his days of acting in the '90s, when he was almost hanged to death on 'The Mummy' set.
He said he was "choked out" when a rope stunt went potentially fatally wrong and said it was "nearly" the end of his life.
Brendan told 'The Kelly Clarkson Show' in February when asked if the 1999 film nearly saw him killed: "Nearly. Well, I was choked out accidentally.
"I was standing on my toes like this, with the rope (around my neck), and you only got so far.
"And (the director) Stephen (Sommers) ran over and he said, 'Hey, it doesn't really look like you're choking – can you sell it?'
"And I was like, 'All right, fine.' So I thought, 'One more take, man.'
"And the camera swooped around and I went up on the toes, and the guy holding the rope above me, he pulled it up a little higher and I was stuck on my toes – I had nowhere to go but down.
"And so he was pulling up and I was going down.
"And then the next thing I knew my elbow was in my ear, the world was sideways, there was gravel in my teeth and everyone was really quiet."
Brendan added he heard the stunt boss say when he came around: "Congratulations, you're in the club – the same thing happened to Mel Gibson on 'Braveheart'.
Brendan said he replied: "Thanks, I think?! I wanna go home!"