Princess of Wales covered head with scarf as she and husband Prince William paid tribute to earthquake volunteers
Catherine, Princess of Wales, wore a scarf out of respect as she and her husband Prince William visited a Muslim community centre to thank volunteers giving aid to survivors of the devastating Turkey and Syria earthquakes.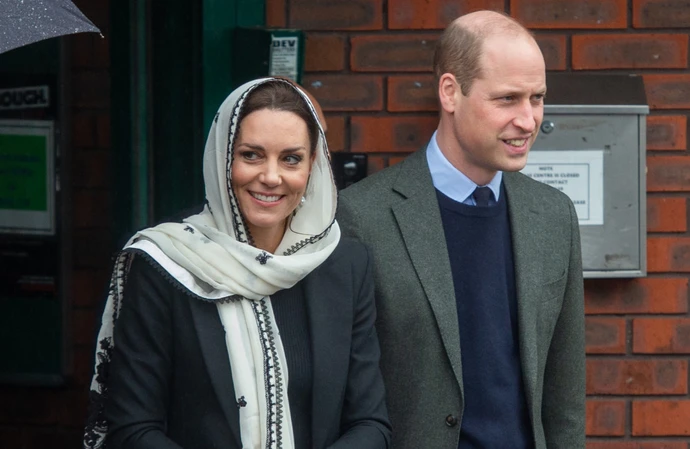 Catherine, Princess of Wales covered her head with a scarf as she and her husband Prince William visited a community centre to thank volunteers giving aid to survivors of the earthquakes that devastated Turkey and Syria.
The 41-year-old royal put on a black and white veil by Pakistani brand Élan, which is part of a set worn by the mum-of-three when she visited the country in 2019, out of respect as she toured the Hayes Muslim Centre in London on Thursday (09.03.23) and praised its workers' "amazing" efforts.
She said: "It's sad that there's a need to do funding – it's amazing there are communities like this here raising (money.)"
Catherine and William, 40, met representatives from the centre have used bucket collections and other charity drives to raise more than £25,000 for the Turkey-Syria Earthquake Appeal.
The prince and princess also met representatives from Disasters Emergency Committee (DEC) charities, including aid workers who had just come back from the devastated Turkey.
Staff from Save the Children, Islamic Relief, Action Against Hunger, Age International and the British Red Cross shared the latest on the situation with the royals and the impact aid is having on communities across the region.
Salah Aboulgasem from the Islamic Relief's Emergency Response Team told Mail Online about the harrowing sights in the crisis zone: "I arrived in Turkey to the worst scenes of destruction I've ever witnessed. I met with so many families whose lives were destroyed in an instant.
"From the onset of the disaster, Islamic Relief teams were on the ground providing instant support, including cash vouchers which are crucial in enabling families to make basic purchases, with dignity."
Catherine and William also joined two pupils from Waldegrave School – Dila Kaya, 14, Lina Alkutubi, 15, and their teacher Natasha Rustam to help make an origami crane as a symbol of hope and healing.
In February, the royal couple made a personal donation to the UK's Turkey and Syria earthquake relief fund, and in a tweet said: "We have been horrified to see the harrowing images coming out of Turkey and Syria in the aftermath of the earthquakes this week.
"Our thoughts are with the communities affected and we are pleased to support the DEC campaign which will aid the response on the ground."
The 7.8-magnitude quake that rocked southern Turkey and northwest Syria on February 6 killed more than 50,000 people and caused huge damage to homes, schools and hospitals, leaving hundreds of thousands of victims homeless and injured.
The DEC's appeal has now raised over £100 million thanks to donations from the British public.
Its CEO Saleh Saeed said about Catherine and William's visit: "The Royal family is always incredibly supportive when the DEC has to launch an urgent appeal to help communities affected by a large-scale disaster.
"We were delighted to welcome Their Royal Highnesses Prince and Princess of Wales to Hayes Muslim Centre today to hear from our returning aid workers about the shocking impact of the earthquakes on the lives of people in both Syria and Turkey and the crucial humanitarian assistance that is being provided by the DEC.
"It was also inspiring to showcase to Their Royal Highnesses a couple of fantastic community fundraising efforts here today.
"The devastation to lives caused by the earthquakes in just seconds is hard to comprehend.
"The people in Turkey and Syria will need our help to rebuild their lives for many months to come.
"We are deeply grateful to people across the country who have supported this appeal."