John Cena confirms WWE return at WrestleMania
Hollywood star John Cena will return to a WWE ring at 'WrestleMania 39' against United States Champion Austin Theory.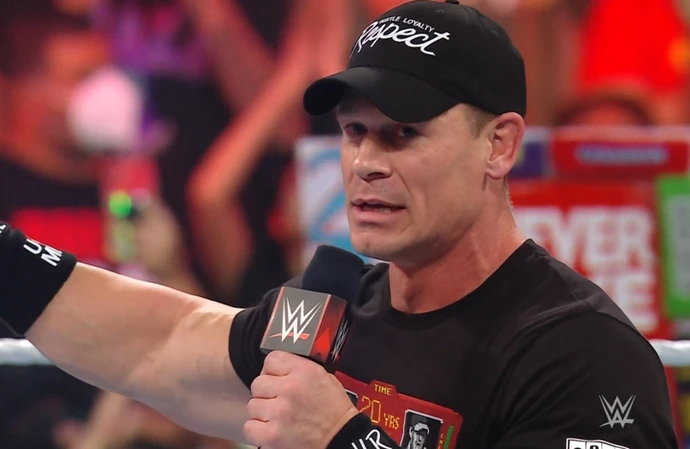 John Cena has confirmed he will return to a WWE ring at 'WrestleMania 39'.
The wrestling legend and Hollywood star appeared on Monday (06.03.23) night's episode of 'Raw' and accepted a challenge from United States Champion Austin Theory.
He said: "I may not care about you, but I'll never give up on [the fans]. Remember this moment, you just made the biggest mistake of your life.
"At WrestleMania, for the United States Championship, it's going to be Austin Theory versus John Cena."
Earlier in the fiery exchange, John insisted his rival wasn't ready for this level of match, insisting he is a wannabe.
Although the rising star had some digs of his own - including mocking his bald spot - the 45-year-old 'Peacemaker' actor came out on top.
He replied: "I would so much rather be bald than have them pipe in fake crowd noises for my matches because nobody cares."
The bout at 'WrestleMania 39' in Hollywood - which is being held on April 1 and 2 - means John will continue his run of wrestling at least one match a year since his debut in 2002.
His most recent in-ring appearance was a tag team match on 'SmackDown' in December, when he teamed up with Kevin Owens to defeat Roman Reigns and Sami Zayn.
Before that, he lost to Roman Reigns in a singles match at 'SummerSlam' in 2021.
The match with Theory will be his first 'WrestleMania' clash since his 2020 cinematic match against Bray Wyatt, while he also made an impromptu appearance in 2018 when he lost to The Undertaker in less than three minutes.
His most recent 'WrestleMania' singles bout in front of a crowd and advertised ahead of time was back in 2015 when he beat Rusev for the United States Title.