Bust-up! Travis Scott caught on camera howling 'Back the f*** up' at DJ before alleged nightclub assault
Travis Scott was filmed screaming "Back the f*** up" at a DJ before he allegedly punched a sound engineer aged in his 50s in the face and damaged $12,000 of equipment at a New York nightclub.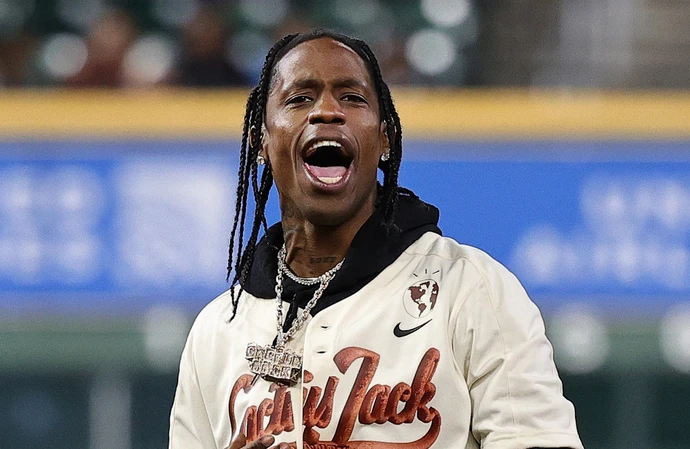 Travis Scott was caught on camera howling "Back the f*** up" at a DJ before he allegedly punched a sound man in the face and damaged $12,000 of equipment at a nightclub.
The 'Antidote' rapper, 31, was accused of the attack and vandalism in the early hours of Wednesday (01.02.23), and has now been seen in footage yelling at and shoving a separate man at Club Nebula in New York before the alleged assault.
Sources told Page Six Travis had the volume up so loud during his performance with Don Toliver, who has a weekly spot at the nightspot, it caused distortion.
He is thought to have then targeted the DJ with a torrent of verbal abuse before allegedly turning on a sound engineer in his 50s, who witnesses said he punched in the face – before he apparently bashed speakers so hard they were left dented.
Police were called to the club around 3am, and said a complaint had been made, but there had been no arrests.
But Travis' lawyer Mitchell Schuster said in a statement: "While this is clearly a misunderstanding being blown out of proportion by clickbait and misinformation, we are actively working with the venue and law enforcement to resolve and set the record straight.
"We are confident our client will be cleared of any wrongdoing."
Club Nebula's managing partner Richie Romero added: "This is blown completely out of proportion. It was a great night."
One source insisted to Page Six Travis was "yelling aggressively", then he "smack(ed) the soundman right across the face".
They added: "It caused a big commotion between Travis' security and club security."
Travis is also said to have snatched a phone being used by a fan to record his tantrum which he allegedly hurled on the floor.
An insider added that as well as battering speakers, Travis "broke the video screen behind the DJ booth".
Another source said: "He was banging on the projector screen really aggressively and broke it in half."
Travis, who has daughter Stormi, five, and 12-month-old son Aire with his ex- Kylie Jenner, 25, has had a string of run-ins with the law – including pleading guilty to disorderly conduct in February 2018 after an incident at an Arkansas concert the year before.
The rapper has also been charged with inciting a riot in May 2017, to which he pleaded not guilty.
He has also been hit with scandal over his gig at the Astroworld Festival in Houston in 2021 in which 10 people died after a stampede broke out that November.
Attendees and families filed 400 lawsuits against Travis, Live Nation and others involved in the event, which were combined into one civil case representing nearly 2,800 victims.
Both Travis and Live Nation denied the allegations and any wrongdoing, with a coroner confirming all victims died from compression asphyxia.