Jane Fonda 'trying to show up' for grown-up kids after not knowing 'how to be a mom'
Jane Fonda says she has studied up on parenting and is now "trying to show up" for her three grown-up children after being previously clueless about being a mum, which she calls her life's "biggest regret".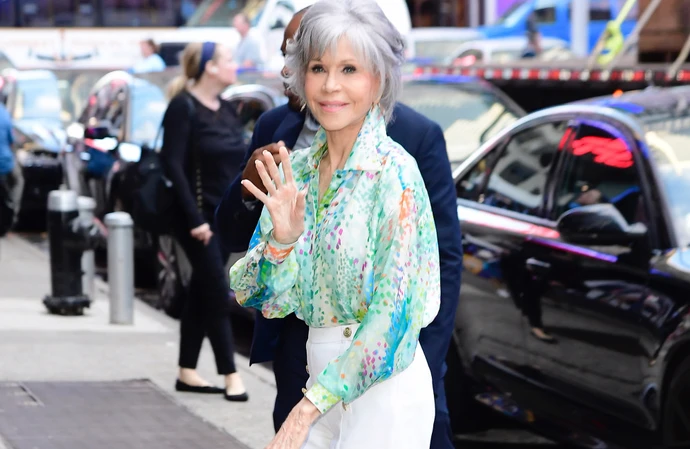 Jane Fonda is "trying to show up" for her children after not knowing "how to be a mom".
The actress, 85, has grown-up kids Mary, 55, Vanessa, 54, and Troy, 49, and said she has studied parenting to make up for her past mistakes in motherhood.
Jane said on CNN's 'Who's Talking to Chris Wallace?': "I've studied parenting, and I know what it's supposed to be now. I didn't know then.
"I have great, great children – talented, smart. And I just didn't know how to do it."
Jane – whose cancer recently went into remission – branded her former parenting style her life's "biggest regret", and added about it in 2017 in a chat with Net-a-Porter: "When I die, I want my family to be around me. I want them to love me, and I have to earn that. I'm still working at it."
Jane first became a mum in 1968 when she and then-husband Roger Vadim had daughter Vanessa.
She was followed by son Troy in 1973 who the actress had with her second husband, Tom Hayden, with whom she also had adopted daughter Mary.
Jane didn't have any kids with her third husband, Ted Turner.
She announced in December her cancer was in remission, and called it the "best birthday present ever" ahead of turning 85 that month.
Jane said in a blog: "Last week I was told by my oncologist that my cancer is in remission and I can discontinue chemo.
"I am feeling so blessed, so fortunate. I thank all of you who prayed and sent good thoughts my way. I am confident that it played a role in the good news."
Jane said in September that she had non-Hodgkin's Lymphoma and had been undergoing chemotherapy for six months.
It is the third time she has battled cancer.
In 2010, Oscar-winner and fitness guru Jane was diagnosed with breast cancer and underwent a lumpectomy in November to have it removed.
Then in January 2018 she had a cancerous growth removed from her lower lip and pre-melanoma growths taken from her skin.