Constance Wu and boyfriend Ryan Kattner's second kid on the way!
Constance Wu and her 'Man Man' singer boyfriend Ryan Kattner have been revealed to be expecting their second child after the 'Fresh off the Boat' actress' baby bump was spotted on display during a walk in a Los Angeles park.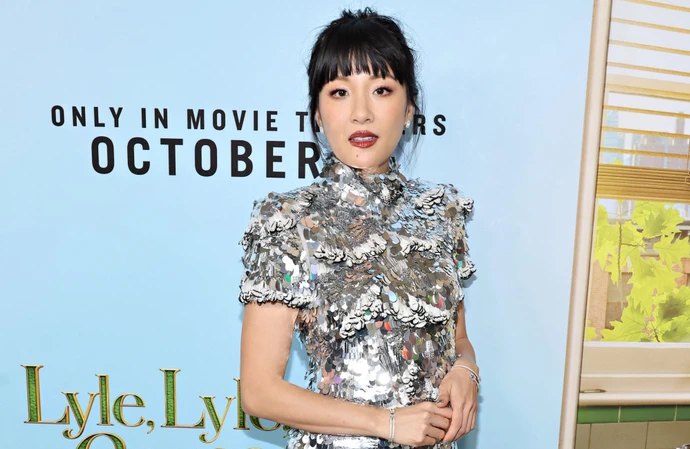 Constance Wu is expecting her second child.
The 'Fresh off the Boat' actress, 40, who already has a two-year-old daughter with boyfriend Ryan Kattner, 42, has been photographed with her baby bump on show while walking through a park in Los Angeles.
Page Six, which carried the images, which were taken earlier this week, in an article on Thursday (16.02.23), said it had reached out to Constance's representative for comment and added the Golden Globe nominee has not yet officially confirmed her second pregnancy with Ryan.
She has kept her and the 'Man Man' frontman's first child, who they had in August 2020, out of the spotlight, but she told Jimmy Fallon during a May 2021 interview her daughter has a "special" birthmark.
She added: "Her butt is the colour blue. There's this thing, I had never heard of it before, but it's called a Mongolian spot (a congenital melanocytosi.)
"Apparently, it happens in a lot of Asian babies, and my boyfriend and I are both Asian.
"And it's where your butt is blue for like the first two years of your life, and then it just goes away."
In 2022, Constance also revealed her toddler can't "stay still for more than 10 minutes".
The actress has also been private about her relationship with Ryan and it is unclear when the pair started dating.
Her privacy was also marked with a three-year break from Twitter, to which she returned in 2019 after backlash over a series of "careless" tweets about the renewal of 'Fresh off the Boat' – which she said drove her into a suicide attempt.
She had shared her frustration about ABC's renewal of the sitcom by tweeting: "So upset right now that I'm literally crying. Ugh. F***... F****** hell."
When another user congratulated her on the show's return and called it "great news", Constance replied: "No it's not."
Constance later explained her outburst came on a "rough day" in which she realised the recommissioning of 'Fresh off the Boat' would mean she would have to pull out of a passion project.
She tearfully told 'Good Morning America' viewers in October 2022 she was "going to jump" from the balcony of her apartment building before her suicide attempt.
In her book 'Making a Scene', the actress recalled how she climbed up to the ledge of her fifth floor New York City apartment building with a blanket after reading a flood of critical remarks about herself on social media with the plan to jump.
She said she was stopped from going through with taking her life when a friend came to check on her, climbed over the ledge and took her to a psychiatric emergency room.
Constance added about surviving: "Ultimately, it ended up being something helpful because it made me get help.
"I was in therapy and under observation for a long time."