Keke Palmer: I was unsure how to tell the world I'm pregnant
Keke Palmer didn't know how to address her pregnancy in public and always felt as if it was "never the right time."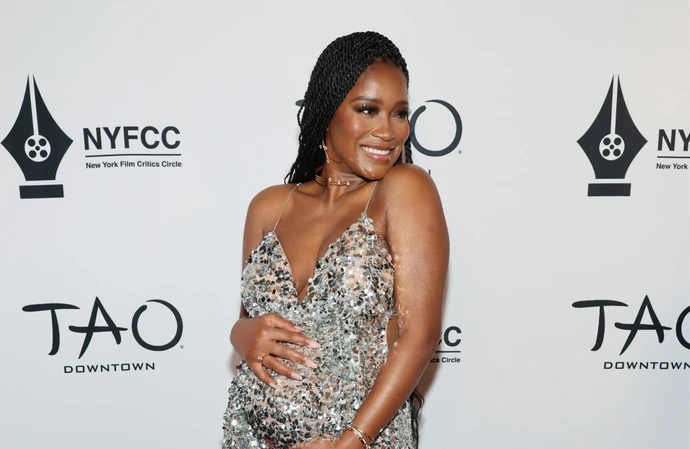 Keke Palmer didn't know how to address her pregnancy in public.
The 29-year-old actress is currently expecting her first child with Darius Jackson and chose to announce the news during her opening monologue on 'Saturday Night Live' in December but always felt like it was "never the right time" and knew she would have to hide the growing bump if she didn't break the news.
She said: "I knew it was going to be a thing to try and hide it—people were already commenting on it. I didn't really know how to address it. It just felt like it was never the right time, and having a child is so private. But I felt like I should probably let people know. You need a certain level of physicality to do 'SNL'. It was so much fun to say it during my monologue. That's something my kid can have forever. "
The 'Nope' star went on to add that she is "so happy" for her future child but joked that she sometimes finds it "creepy" to think about the fact that she has a growing foetus moving around inside of her.
She told Vanity Fair magazine: "I'm so happy for my child! Pregnancy is a road. I remember my doctor saying, 'Pregnancy isn't a disease. It's a natural thing! You don't have to feel like you're walking on eggshells.'
"I honestly feel like the same old me [at] six months along. I really expected something so dramatic. But I'm just pregnant. I have something that's moving around in there every now and then. That part is creepy sometimes. "
When she made her announcement on 'SNL', Keke threw open her jacket to show off her growing baby bump.
She said during her opening monologue at the time, Keke said: "There's some rumours going around, people have been in my comments saying, 'Keke's having a baby, Keke's pregnant,' and I wanna set the record straight — I am!
"I gotta say, though, it is bad when people on the internet spread rumours about you y'all, but it's even worse when they're correct. I mean, like, I was trying so hard to keep it on the down low, cause I got a lot of stuff going on, you know?
"... But honestly this has been the biggest blessing, and I am so excited. Guys, I'm going to be a mom."
The 'Lightyear' actress admitted people may find the news "a little weird" because they still think of her as a child star.
She quipped: "Even though some people feel a little weird about me having a baby cause I was a child actor, I just wanna say, look, I'm 29, I'm grown, I have sex, I own a home, I stormed the Capitol on January 6, you know? Things adults do."