Rihanna 'shared her pregnancy news with very few people'
Rihanna made a concerted effort to keep her pregnancy under wraps.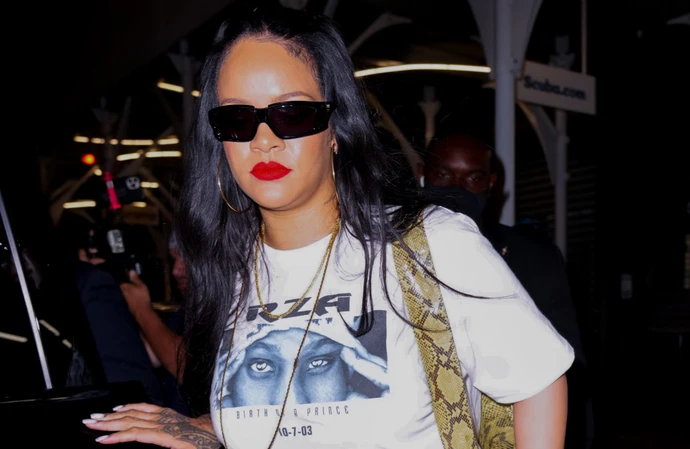 Rihanna shared her pregnancy news with a "very limited few" before the Super Bowl.
The 34-year-old star revealed her pregnancy to the world during her Super Bowl performance - but Rihanna managed to remain tight-lipped about the news over recent weeks.
A source told 'Entertainment Tonight': "Rihanna has always done things on her own schedule so she didn't let her plans for baby number two stop her from committing to doing the show - she wanted it all!"
The insider added that "when she was further along and shared the news with a very limited few, everyone was very supportive!"
Jesse Collins, who produced the Super Bowl halftime show, also revealed that Rihanna rehearsed miles away from Los Angeles in a bid to keep the news under wraps.
Jesse explained: "We had to rehearse way out in the sticks of [Los Angeles] and Santa Clarita to keep it all secretive.
"It was a lot of work. And then, how do you keep the secret that she's pregnant? I mean, that's hard too ... Honestly, as soon as it [was] done I'm like, 'Woo, let's get her back down.' That's all I want to do is get her back on the ground ... It was a lot of prep, a lot of nerves and [I'm] just really happy to be a part of it."
Meanwhile, Rihanna previously revealed that her baby boy inspired her to perform at the Super Bowl.
The singer - who gave birth to her son in May - admitted that motherhood has changed her outlook on life.
She shared: "I feel like it was now or never, really. There's this weird s*** that happens when you become a mom, that you just unleash or unlock other parts of your superpower, you feel like you can take on or you could do anything.
"I wanted to take on the challenge and I wanted to do something that would force me to get back onstage."