Vanessa Hudgens confirms engagement to Cole Tucker
Vanessa Hudgens has taken to social media to announce her engagement to sports star Cole Tucker.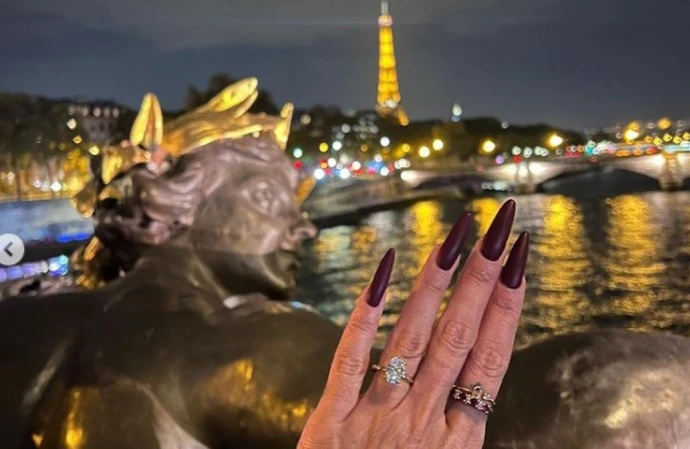 Vanessa Hudgens has confirmed her engagement to Cole Tucker.
The 34-year-old actress has taken to Instagram to post photos of her sparkling engagement ring, ending weeks of speculation about their relationship status.
Alongside photos of the loved-up couple in Paris, Vanessa wrote: "YES. We couldn't be happier [heart emoji] (sic)"
In the first photo, the sports star has his hands wrapped about the brunette beauty, who is pointing her engagement ring towards the camera.
And in the second snap, Vanessa provides a close-up look at her dazzling ring.
The actress' engagement has been rumoured for weeks, and Vanessa was recently spotted in Los Angeles alongside her sister, Stella, and mother, Gina.
However, in her Instagram photos, the couple are celebrating their engagement in Paris, suggesting that Vanessa has waited before officially announcing the news to her followers.
The 'High School Musical' star and Cole were first spotted together back in November 2020.
And Vanessa - who made their romance Instagram official in 2021 - previously admitted that the baseball star is "kind of perfect" for her.
Reflecting on their romance, the Hollywood star shared: "He's just kind of perfect for me. I am [happy]. I really am.
"I think that it's also so important to stay grateful for everything that you have in life. I've been making that a priority, and I feel like it's just been making magic happen all the more."
Vanessa - who previously dated her former 'High School Musical' co-star Zac Efron, between 2005 and 2010 - also revealed that they met each other in "very random" circumstances.
She said: "Me and Cole met on a Zoom meditation group. Very random, yes. Zoom, you've got to love it."