Sara Ali Khan details weight struggle
Sara Ali Khan has revealed her weight loss journey with her followers.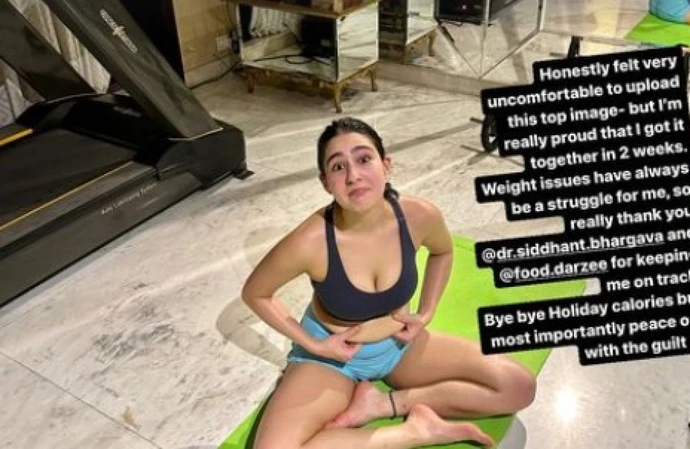 Sara Ali Khan has opened up about her weight "struggles" in a candid post about her ongoing fitness journey.
The 28-year-old actress - who launched her acting career with the hit films 'Kedarnath' and 'Simmba' in 2018 - admitted she felt "very uncomfortable" sharing the snap of her holding her belly in the top image but she no longer has any "guilt" about her body.
Comparing pictures of herself pre-weight loss journey and now, she wrote on her Instagram Story: "Honestly felt very uncomfortable to upload this top image- but I'm really proud that I got it together in 2 weeks. Weight issues have always been a struggle for me, so really thank you @dr.siddhant.bhargava and @food.darzee for keeping me on track. Bye bye Holiday calories but most importantly peace out with the guilt.
"Fitness is a journey... So just keep going."
Meanwhile, Sara has denied a rumour suggesting she is dating Indian cricketer Shubman Gill.
In a preview clip of a new episeod of 'Koffee With Karan', host Karan Johar asks: "There were alleged rumours about you dating Shubman Gill?"
And she reacted: "You have got the wrong Sara, guys."