Hugh Hefner's son defends OnlyFans: 'If I get NAKED, and I'm not doing anything that's hurting anybody, and I can make money off of it that's GROOVY!'
The Playboy magnate's son Marston says there is nothing immoral about OnlyFans, as long as no one is getting harmed.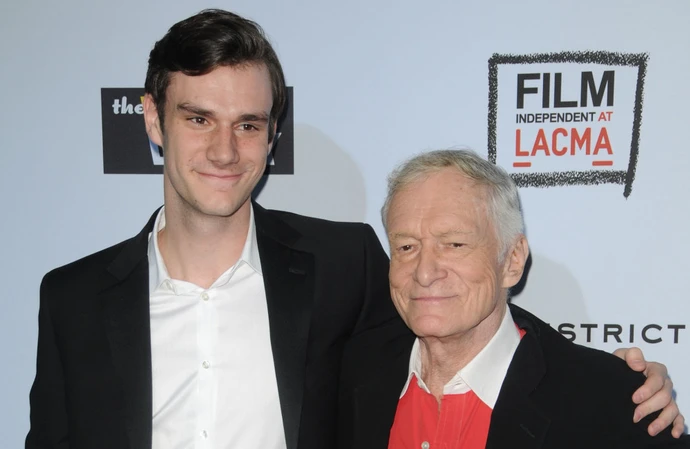 Hugh Hefner's son Marston Hefner says it's "groovy" that he can earn money stripping naked on OnlyFans.
The son of the late Playboy magnate and Playmate Kimberly Conrad, 61, started flogging subscriptions to his racy content on the adult site as extra "financial security" for his family and to fund his Pokémon card and Beanie Babies obsession - but against his wife's wishes.
His content includes "undressing slowly" and engaging in "butt plug play", but most of it is Pokemon-themed.
And Marston, 33, insists that as long as no one is coming to "any harm", there is no reason why anyone shouldn't be paid to be "naked".
He told Fox News Digital: "I think I like being provocative in a way that makes sense to me ethically, as long as I don't feel like it's doing any harm.
"It's like, OK, so people don't want to make money off of getting naked.
"There's nothing wrong with getting naked. And so there is an opportunity there where it's like, if I get naked, and I'm not doing anything that's hurting anybody, and I can make money off of it [that's] groovy."
The author being comfortable to bare all comes from his "wild" upbringing with his father running an adult playground at the infamous Playboy mansion, where nudity was commonplace.
He recalled: "That was wild.
"Nudity was totally normal.
"What it taught me in my life is that one, doing something different is OK. If people think negatively about it, as long as it's OK with your ethical moral system, it's OK to do things outside of the box.
"Like my father being famous, having seven girlfriends. That didn't hurt me growing up. Maybe it brought its own challenges, but overall it was like a blessing, obviously."
Marston recently became a father for the first time, welcoming a baby boy with spouse Anna Lambropoulos in July, and says his own "unconventional childhood" inspired him to "think outside of the box".
He added: "Look at my life.
"I mean, I'm very blessed. So, I think doing things differently is OK and nudity is normal. And just thinking outside of the box a little bit because I had a very unconventional childhood."
And his wife isn't so bothered by his side job anymore as it gives her and their son some extra spending money.
He said: "I think she saw some money signs, and she was like, 'OK, I get to get some cool things, too.' And then she saw some of the money going towards our son, so that changed her mind.
"I think it's one of those things where it's like a shock. It's like, 'Whoa, what the heck? Oh my gosh, you're doing this. Oh my gosh.' And then there's the kind of calm after the storm."