Madelaine Petsch was 'biggest supporter' of Riverdale sex scenes
Madelaine Petsch and Vanessa Morgan were the "biggest supporters" of having more sex scenes on 'Riverdale' because they felt it was important for their characters' relationships.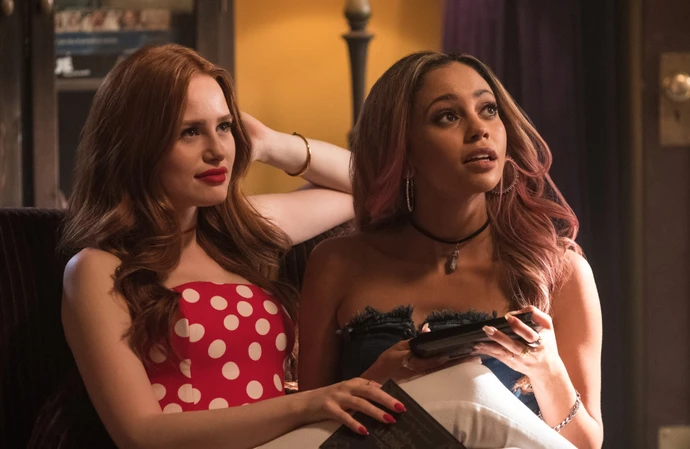 Madelaine Petsch and Vanessa Morgan were the "biggest supporters" of having more sex scenes on 'Riverdale'.
The actresses felt it was important the relationship between their characters, Cheryl Blossom and Toni Topaz, was depicted the same way as the other couples on the show and they were more than happy to get intimate on camera for the sake of the show.
Madelaine told Vulture: "Being in a female-female relationship on the show was interesting because Vanessa and I were the biggest supporters of having more sexual encounters on the show. And I feel like some people were scared of that.
"In season three, she and I just decided with a director to put in this sex scene that wasn't there.
"And that, I think, broke the barrier of allowing us to be more like the other couples on the show. I felt it was really important for our particular relationship."
Despite her willingness to be involved in sex scenes on the show, the 28-year-old actress admitted she isn't always body confident.
She said: "The other day, I had to do a lingerie shoot and I felt so s***** about my body I cried. I tried on six different outfits and eventually found something that made me feel remotely okay."
And her feelings of self-consciousness are shared by co-star KJ Apa, who plays Archie Andrews, because he went from feeling it was "cool" to be shirtless on screen to finding it uncomfortable.
He said: "At first, as a young child, which is what I was, I thought it was cool — you almost want the opportunity to be shirtless. I was like, 'Yeah, let me take my shirt off. Boom!' And then you gotta consistently stay in incredible shape. It takes a toll.
"Even saying that I didn't feel comfortable I had a hard time with.
"I thought people would be like, 'Why not? Just f****** do it, bro.'"
But the cast were quick to stress that creator Roberto Aguirre-Sacasa created a safe environment on set.
Camila Mendes, who plays Veronica Lodge, said: "We need to say Roberto is always very understanding of us, and there's nobody forcing us to do anything. It's just the nature of being on a teen show," she noted.