'Confidence is everything!' OnlyFans star attends Arsenal game NAKED
OnlyFans star Arabella Mia attended a football game naked as she painted her bare body in the style of an Arsenal shirt.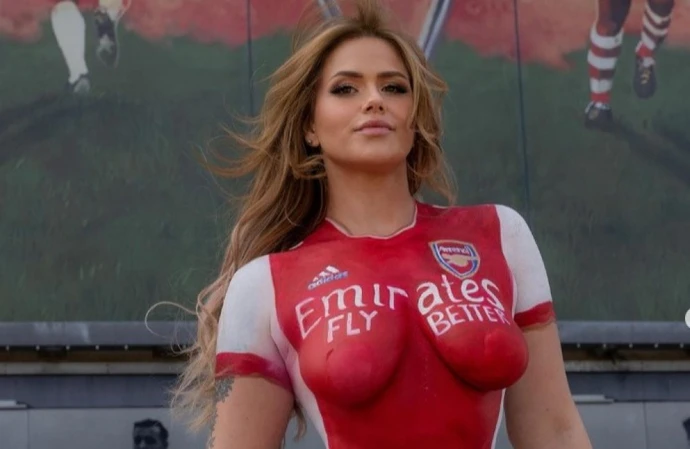 OnlyFans star Arabella Mia attended a football game naked.
The influencer is known as GreenGirlBella on the adults-only platform and sells racy snaps to legions of subscribers but decided to paint her naked body to resemble an Arsenal football shirt and attended the Emirates Stadium on Monday (29.05.23), where her team beat Wolves in the final.
Speaking in a video posted to YouTube, she said: "This is Tamara, this is Jess. They're working very hard to get my body completely covered so I don't get arrested. They're just painting on the shorts now and finishing off the lettering at the front. This whole process takes about two and a half to three hours, then we're going to go out to see the fans and ask how they're feeling about the game. I feel like the shock factor is going to be there!"
When Arabella - who was wearing just a pair of white knickers - reached the stadium, she stopped fans to ask them what they thought of the upcoming game but struggled to find anyone who would swap their ticket in exchange for something saucy.
She asked a fan outside: "Would you swap your ticket to touch my bum?"
He answered: "It would have to be a hard no!"
She asked another: "Would you give me your ticket for a kiss?"
He answered: "Erm...not today."
Reflecting on her day, Arabella remarked that her experience had been "absolutely mental" and reminded her followers that she would be taking the paint off for fans in a follow-up video on her OnlyFans page.
She said: "It's been absolutely mental! Thank you to everyone I met today, you can watch me take me take all of this off when I get home but for now I'm just going to watch the game, alright?"