Manchester City star Erling Haaland dines in £1,000 pyjamas
Manchester City superstar Erling Haaland has a penchant for expensive pyjamas and often wears the garments regardless of whether he is in bed or not.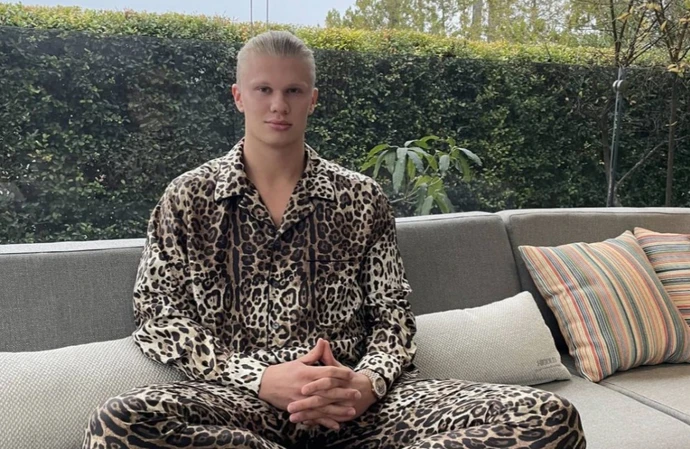 Erling Haaland dined out in £1,000 pyjamas.
The Manchester City striker has a penchant for wearing pricey nightwear - regardless of whether he is in bed or not - and shares his outfits with his 27 million Instagram followers.
In one of his snaps, Haaland was dining at the high-end Manchester restaurant Rosso in a £1,100 powder blue silk shirt with a red motif.
The Norwegian player - who has scored 32 Premier League goals in a remarkable first season in English football - also has a taste for leopard-print pyjamas and posted a picture of himself relaxing in the garments.
Haaland is not afraid to wear pyjamas abroad as he opted for a Dolce and Gabbana pair while on a holiday, which cost £1,310 for the top and £1,100 for the bottoms.
The footballer wished his followers a happy Christmas last December by sharing a photo of himself in black and white heart-patterned nightwear made by the Italian designer, costing an eye-watering £2,450.
Also featuring in Haaland's wardrobe is a £1,125 pink flamingo two-piece from Dolce and Gabbana's collaboration with rapper DJ Khaled.
Haaland, 22, has broken several scoring records this season and has reached 45 goals in all competitions as Manchester City bid to win three trophies.
The footballer goes to extreme measures to be in good condition on the pitch and feasts on heart and liver as part of a 6,000-calorie-a-day diet.
Speaking in the documentary 'Haaland: The Big Decision' last year, he said: "You (other people) don't eat this, but I am concerned with taking care of my body. I think eating quality food that is as local as possible is the most important.
"People say meat is bad for you but which? The meat you get at McDonald's? Or the local cow eating grass right over there? I eat the heart and the liver."