David Crosby died from COVID, former bandmate Graham Nash reveals
David Crosby's death caused by COVID-19, the second time he had contracted the respiratory illness.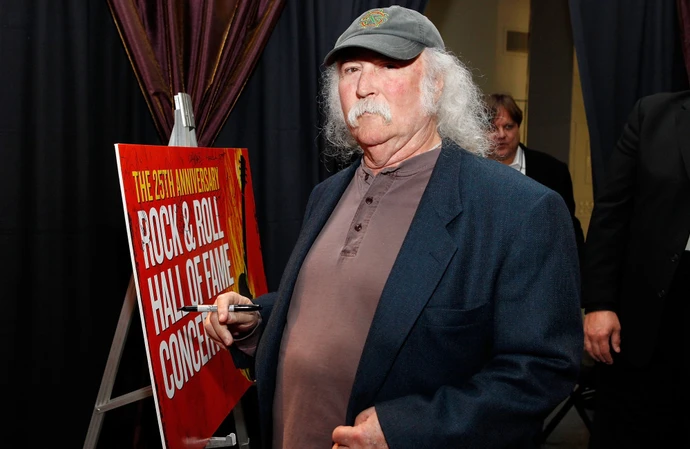 David Crosby was killed by COVID-19, according to his former bandmate Graham Nash.
The legendary musician died on January 18, at the age of 81, and now Nash - who performed with David along with Crosby, Stills and Nash along with Stephen Stills - has opened up about his friend's passing, admitting it hit him "kind of like an earthquake".
Nash, 81, has revealed that Crosby went home feeling unwell with coronavirus and then just "never woke up".
Speaking on the 'Kyle Meredith With...' podcast, he revealed: "He was rehearsing for a show to do in Los Angeles with a full band. After three days of rehearsals, he felt a little sick. And he'd already had COVID, and he had COVID again. And so he went home and decided that he would take a nap, and he never woke up. But he died in his bed, and that is fantastic."
Nash also went on to share that he had the utmost respect for Crosby as a songwriter and person, despite the personal difficulties they had over the years.
He said: "[People] expected David to pass 20 years ago, the fact that he made it to 81 was astonishing.
"He had a good life. What incredible music he made. He was a fantastic storyteller.
"I loved him dearly, and looking back, what separated us... it was just foolish stuff, really."
In 2022, Crosby opened up about his first bout with COVID-19, admitting the virus made him feel "freaking awful".
The 'Our House' songwriter told Variety: "COVID is a very weird disease. It makes you feel absolutely freaking awful. It has been thoroughly unpleasant … it's no fun at all. You want to avoid it if you possibly can."
Crosby's death was announced to the world by his wife Jan Dance - whom he had been wed to for 36 years - in a statement.
Her words read: "It is with great sadness after a long illness, that our beloved David (Croz) Crosby has passed away.
"He was lovingly surrounded by his wife and soulmate Jan and son Django. Although he is no longer here with us, his humanity and kind soul will continue to guide and inspire us. His legacy will continue to live on through his legendary music. "Peace, love, and harmony to all who knew David and those he touched. We will miss him dearly. At this time, we respectfully and kindly ask for privacy as we grieve and try to deal with our profound loss. Thank you for the love and prayers."