'It looks disgusting': Aspiring chef Brooklyn Beckham in fettuccine fiasco
Brooklyn Beckham has been called out for not using the key ingredients in the Italian dish.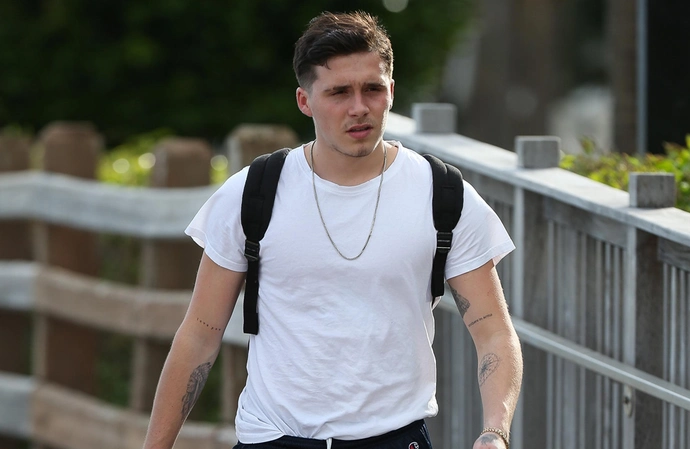 Brooklyn Beckham has been mocked for using the wrong ingredients in his latest cooking video.
The 23-year-old aspiring chef's fettuccine alfredo recipe failed to get people's tastebuds tangling, as David and Victoria Beckham's eldest son was called out for using the wrong pasta and sauce for the popular Italian dish.
Instead of using fettuccine, Brooklyn used spaghetti, while he replaced the Alfredo sauce - which is traditionally tossed with butter and Parmesan cheese - for his bland version of bechamel.
The model - whose camera skills have been questioned in the past - also irritated a number of people for not seasoning the dish and not using cheese.
One unhappy viewer commented on the Instagram clip: "You literally described an entirely different dish to the one that's in your video.
"You didn't use fettuccine and you didn't make an Alfredo sauce. You used no seasoning or cheese and quite honestly, it looks disgusting. I'd say try again but I honestly dread to think of what you'll mess up next time."
Another wrote: "Where's the seasoning where's the cheese... where's all the good stuff ...just milk?"
A third added: "No no and again no! So many mistakes in only one dish! Please no!"
Another asked: "Where's the fettuccine?"
Brooklyn's method was to add his milk-heavy concoction to dried pasta in a frying pan and decorate the dish with a herb.
His latest cooking drama comes after Brooklyn was previously scolded for his method for cooking a sandwich on US TV.
The photographer - who is married to 28-year-old actress Nicola Peltz - previously hit headlines after serving up a bacon, sausage and fried egg sandwich on US television.
Brooklyn appeared on the 'Today' show to show off his culinary talents in the kitchen, but some viewers felt the dish was too easy.
In 2021, Brooklyn launched his own cooking show on Facebook Messenger.
The eight-episode weekly series was called 'Cookin' With Brooklyn'.
Reflecting on cooking, he said: "It's just very therapeutic. It's one of the very few things that I do that I absolutely think about nothing else.