'This has taken up my entire life...' James Gunn shares 'relief' to complete Guardians of the Galaxy trilogy
James Gunn admits it feels like a "big relief" to be able to complete his 'Guardians of the Galaxy' trilogy "in a way that we're really proud of".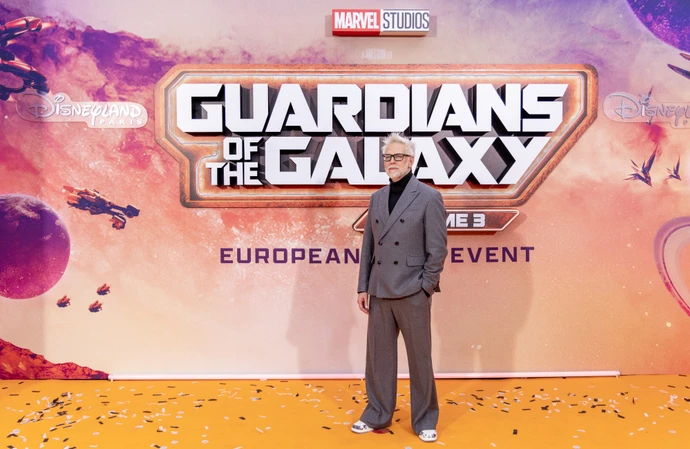 James Gunn admits it's a "big relief" to complete the 'Guardians of the Galaxy' trilogy.
The 56-year-old director has helmed every movie in the Marvel Cinematic Universe series since the first instalment came out in 2014 and is now unveiling the final film in his series, 'Guardians of the Galaxy Vol. 3'.
Gunn says the story and characters - which include Star-Lord, Gamora, Drax the Destroyer and Rocket, among others - have consumed much of his time and thoughts for the past 11 years and he is pleased to be able to close this chapter on his career with a blockbuster adventure he is extremely proud of.
Speaking at a press conference at Le Bristol hotel in Paris, he said: "Over the past 11 years of my life, I think I have probably spent 60 percent of my time thinking about the 'Guardians of the Galaxy'. So this has taken up my entire life.
"There is a weird situation where I just have to adjust everything about my world to be about something other than the Guardians, which is difficult.
"But it's frankly a big relief also, to feel like we've finished this trilogy, and we finished it in a way that we're really proud of, where all the characters get the dignity they deserve."
Gunn teased that the third movie focuses heavily on genetically engineered raccoon bounty hunter Rocket - who is voiced by Bradley Cooper - who he says has been the "heart of this trilogy for me".
He added: "It was really important to me, the reason why I chose to come back and do this movie, is because I felt a deep need to finish Rocket's story, that's what brought me to do it."
Gunn is moving on to focus on creating a new DC Universe along with Peter Safran, with the pair being appointed co-chairmen and co-CEOs of DC Studios.
Although he is switching comic book sides, the 'Slither' filmmaker will miss the friends he has made from the cast which includes Karen Gillan, Zoe Saldana, Chris Pratt, Dave Bautista and Vin Diesel.
Gunn admits that those off-screen friendships have influenced how he has written for their alter egos in his new film.
He said: "I think it's an interesting thing when you work with people for so long, on such long shoots, you become friends with them outside of that process and you get to know them on a molecular level.
"So it makes the movies naturally in some ways more interesting, because I know how funny Karen is and so Nebula all of a sudden has a humorous streak that she didn't have in the first movie.
"I know that Zoe has this way to be so focused on one thing and just be there and so it makes much more of a tougher, crazier, meaner character in this movie, because I know what she's able to do and how cool she is."
To celebrate the upcoming release of Marvel Studios' 'Guardians of the Galaxy Vol. 3' Gunn and cast members Pratt, Saldana, Gillan, Pom Klementieff and Diesel took an intergalactic road trip to Disneyland Paris for the European Gala Event at the brand-new immersive universe Marvel Avengers Campus.
In Avengers Campus, guests become 'recruits' to dive into the heart of the action alongside the Marvel Super Heroes, who include Star Lord, Gamora, Captain Marvel, Spider-Man and Shuri, while experiencing epic adventures, especially in thrilling experiences such as Spider-Man WEB Adventure and Avengers Assemble: Flight Force.
'Guardians of the Galaxy Vol. 3' releases exclusively in UK cinemas and around the world on May 3.
Avengers Campus and new limited-time experiences to celebrate the 'Guardians of the Galaxy Vol. 3' are available at Disneyland Paris.