Ana de Armas found shooting Ballerina 'demanding'
Ana de Armas found filming 'Ballerina' "really demanding" but she enjoyed working with Keanu Reeves again.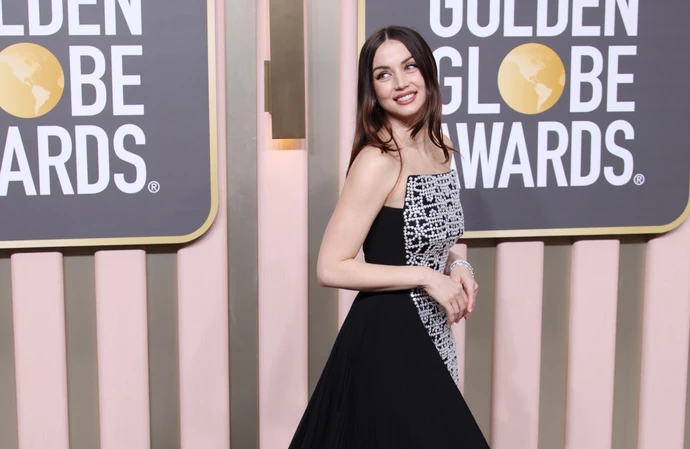 Ana de Armas found filming 'Ballerina' "really demanding".
The 34-year-old actress is playing the lead role in the 'John Wick' spin-off and she threw herself into the gruelling fight scenes to play the dancer assassin, who is out for revenge following the death of her family.
She told 'Entertainment Tonight' about the film: "That is gonna be really another level. That movie was really demanding!"
Ana was delighted to reunite with Keanu Reeves, who she previously starred opposite in 2015 horror thriller 'Knock Knock'.
She added: "You know, I love the John Wick universe and I loved working with Keanu again.
"It's a great character and it's a great story, it's beautiful on screen. I'm very excited for that one."
The Oscar-nominated star can next be seen in 'Ghosted' and she was thankful she already had some experience of action movies thanks to her roles as CIA Agent Paloma in 'No Time To Die' and Dani Miranda in 'The Grey Man' because she thinks it would have been "really hard" if she'd never done anything so physical before.
She said: "[Training for 'Ghosted'] was kind of like an escalation of the level of action that I was learning [before].
"[With] Paloma, I had very little [action training], but it was very intense, with a great crew, and that for sure, you know, allowed me [have a good base of knowledge].
"Starting from zero in this movie would have been really hard."
Ana previously admitted she had been left "in pain" after filming her fight scenes for 'Ballerina' but didn't want to complain too much because Keanu tackled them with such ease.
Speaking on 'The Tonight Show Starring Jimmy Fallon' in January, she said: "We've been in Prague filming for four months. We still have one more month to go. And I'm in pain. You know, my body, my back, everything hurts. I'm complaining, I'm sore, I'm bruised...
"Bond was fifteen minutes. This is a whole movie, another level. But the other day, Keanu and I were rehearsing our very difficult stunt scene, and this man is just rolling and throwing me and doing crazy stunts.
"And I'm like – I can't complain anymore. Because he is doing it! He truly is the best."