Avatar 2 dominates visual effects awards with nine wins
James Cameron's 'Avatar: The Way of Water' dominated the 21st Annual VES Awards this week with a staggering nine wins.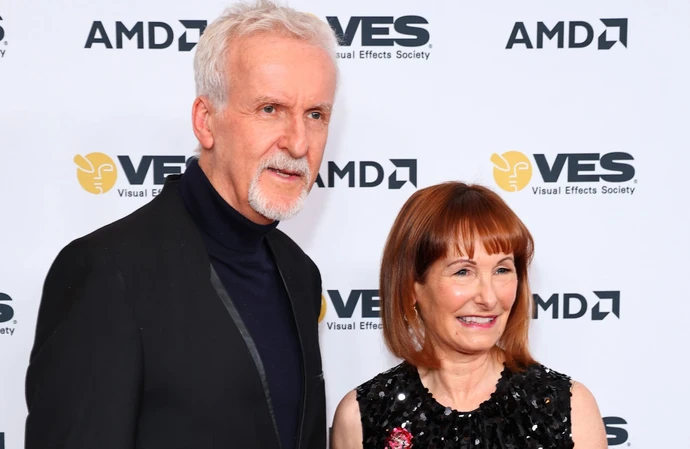 'Avatar: The Way of Water' dominated the 21st Annual VES Awards with a staggering nine wins.
James Cameron was on hand to present producer Gale Anne Hurd - whom he was married to for four years until 1989 - with the VES Lifetime Achievement Award this week while his own long awaited sequel enjoyed great success across the photoreal categories.
As well as taking home the prize for outstanding visual effects in a photoreal feature, Sigourney Weaver's Kiri was named outstanding animated character, while The Reef won the created environment prize.
Elsewhere, the movie's Sea Dragon was named outstanding model in a photoreal or animated project, and the film as a whole was recognised with the virtual cinematography in a CG project trophy.
Along with the current machine and wave pool, the water simulations and water integration got nods, as did the 'water toolset' in the emerging technology category.
Guillermo del Toro's 'Pinocchio' also enjoyed some success with three prizes, most notably for oustanding visual effects in an animated feature.
The title character won in the animated category, while the stomach of a sea monster won the created environment in an animated feature prize.
In a statement, VES chair Lisa Cooke said: "As we celebrate the 21st Annual VES Awards, we're honored to keep shining a light on remarkable visual effects artistry and innovation.
"In all of our colleagues honored tonight, we see best in class work that elevates the art of storytelling and exemplifies the spirit of adaptation and ingenuity — talents that have kept audiences engaged and uplifted, now, more than ever.
"The VES Awards is the only venue that showcases and honors these outstanding global artists across a wide range of disciplines, and we are extremely proud of all our winners and nominees!"
21st Annual VES Awards full winners list
OUTSTANDING VISUAL EFFECTS IN A PHOTOREAL FEATURE
'Avatar: The Way of Water'
OUTSTANDING SUPPORTING VISUAL EFFECTS IN A PHOTOREAL FEATURE
'Thirteen Lives'
OUTSTANDING VISUAL EFFECTS IN AN ANIMATED FEATURE
'Guillermo del Toro's Pinocchio'
OUTSTANDING VISUAL EFFECTS IN A PHOTOREAL EPISODE
'The Lord of the Rings: The Rings of Power; Udûn'
OUTSTANDING SUPPORTING VISUAL EFFECTS IN A PHOTOREAL EPISODE
'Five Days at Memorial; Day Two'
OUTSTANDING VISUAL EFFECTS IN A REAL-TIME PROJECT
'The Last of Us Part I'
OUTSTANDING VISUAL EFFECTS IN A COMMERCIAL
'Frito-Lay; Push It'
OUTSTANDING VISUAL EFFECTS IN A SPECIAL VENUE PROJECT
ABBA 'Voyage'
OUTSTANDING ANIMATED CHARACTER IN A PHOTOREAL FEATURE
'Avatar: The Way of Water' – Kiri
OUTSTANDING ANIMATED CHARACTER IN AN ANIMATED FEATURE
'Guillermo del Toro's Pinocchio' – Pinocchio
OUTSTANDING ANIMATED CHARACTER IN AN EPISODE, COMMERCIAL OR REAL-TIME PROJECT
'The Umbrella Academy' – Pogo
OUTSTANDING CREATED ENVIRONMENT IN A PHOTOREAL FEATURE
'Avatar: The Way of Water' – The Reef
OUTSTANDING CREATED ENVIRONMENT IN AN ANIMATED FEATURE
'Guillermo del Toro's Pinocchio' - In the Stomach of a Sea Monster
OUTSTANDING CREATED ENVIRONMENT IN AN EPISODE, COMMERCIAL, OR REAL-TIME PROJECT
'The Lord of the Rings: The Rings of Power' – Adar; Númenor City
OUTSTANDING VIRTUAL CINEMATOGRAPHY IN A CG PROJECT
'Avatar: The Way of Water'
OUTSTANDING MODEL IN A PHOTOREAL OR ANIMATED PROJECT
'Avatar: The Way of Water' – The Sea Dragon
OUTSTANDING EFFECTS SIMULATIONS IN A PHOTOREAL FEATURE
'Avatar: The Way of Water' – Water Simulations
OUTSTANDING EFFECTS SIMULATIONS IN AN ANIMATED FEATURE
'Puss in Boots: The Last Wish'
OUTSTANDING EFFECTS SIMULATIONS IN AN EPISODE, COMMERCIAL, OR REAL-TIME PROJECT
'The Lord of the Rings: The Rings of Power Udûn' – Water and Magma
OUTSTANDING COMPOSITING LIGHTING IN A FEATURE
'Avatar: The Way of Water' – Water Integration
OUTSTANDING COMPOSITING LIGHTING IN AN EPISODE
'Love, Death and Robots: Night of the Mini Dead'
OUTSTANDING COMPOSITING LIGHTING IN A COMMERCIAL
Ladbrokes; Rocky
OUTSTANDING SPECIAL (PRACTICAL) EFFECTS IN A PHOTOREAL PROJECT
'Avatar: The Way of Water' Current Machine and Wave Pool
OUTSTANDING VISUAL EFFECTS IN A STUDENT PROJECT (AWARD SPONSORED BY AUTODESK)
A Calling. From the Desert. To the Sea
EMERGING TECHNOLOGY AWARD
'Avatar: The Way of Water' Water Toolset