Chrissy Teigen laughs off revealing wardrobe malfunction
Chrissy Teigen was left red-faced after her dress split open at the Baby2Baby Gala.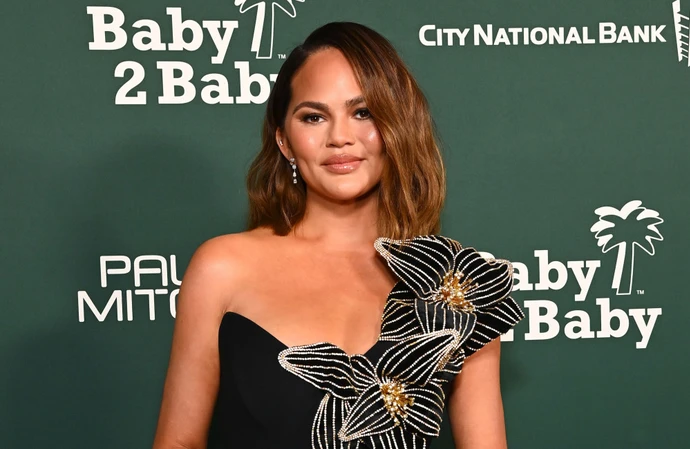 Chrissy Teigen shrugged off an embarrassing wardrobe malfunction that left her exposed.
The 37-year-old model was attending the Baby2Baby Gala in Los Angeles on Saturday (11.11.23), when her dress' zipper popped, causing it to split open and reveal her lower back.
Despite the awkward mishap, Chrissy did not let the incident get to her and took to Instagram to share her amusement at the situation with her 42.7 million followers.
Shed posted a picture of her malfunctioning dress and joked with her fans over the fashion slip with the caption: "oh lol. (sic)"
As well as Chrissy, the star-studded bash was attended by Olivia Wilde, Hailey Bieber, Gwyneth Paltrow, Demi Lovato, Kim Kardashian, Zoe Saldaña, Zooey Deschanel, Lori Harvey, Jessica Alba, Sofia Richie Grainge, Kirsten Dunst, Sarah Hyland and Jessie James Decker.
The event is hosted by the non-profit Baby2Baby, which supports children stricken by poverty.
The evening saw a performance from Snoop Dogg, and Channing Tatum gave Salma Hayek the Giving Tree Award for her unwavering dedication to supporting children all over the globe.
Accepting the prize, she said: "I cannot tell you how thrilled I am that you guys included me in this very special night. I am such a big fan of this organisation.
"Dignity is an essential. Diapers are dignity, make no mistake. Love is an essential. For all these children and all the mothers and all the families.
"Everything you donate and everything that Baby2Baby brings to every single home or street, there is an intention, it's not just money. It is love. It is compassion. It is caring. We are all interconnected, baby to baby. Thank you very much."