Elle Fanning makes Alexander McQueen campaign debut to promote Joan of Arc-inspired range
In a new range inspired by France's patron saint, Elle Fanning has made her debut fronting an Alexander McQueen collection, alongside Naomi Campbell, Liu Wen and Eva Green.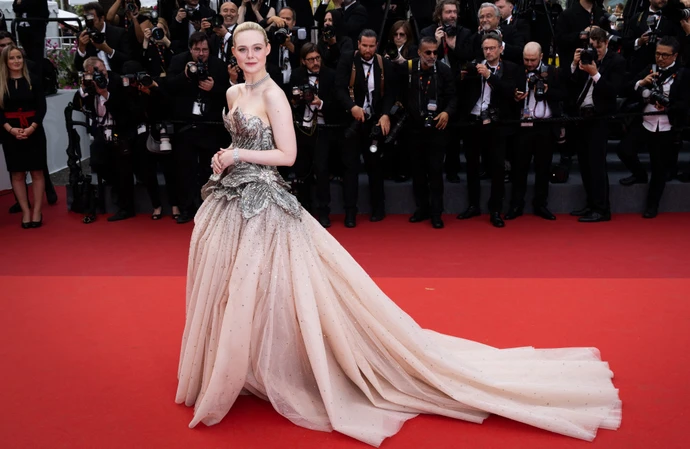 Elle Fanning has made her debut in an Alexander McQueen campaign to promote a new Joan of Arc-inspired range.
The actress, 25, fronts a collaboration between the late designer's brand and photographer David Sims for an autumn 2023 collection.
She features alongside models Naomi Campbell, 53, Liu Wen, 35, and 43-year-old actress Eva Green.
The new collection draws inspiration from the figure of patron saint of France Joan of Arc and includes striking pieces such as a double-breasted blazer, an oversized leather coat, jumpsuits and a variety of accessories.
Images accompanying the campaign feature simple, solid backgrounds with the models at their centre.
Elle, who is also a Cartier ambassador, stars in the campaign wearing a monochrome tailored suit, with an embroidered evening gown as another of her looks.
Naomi is seen wearing a sparkling red sequin dress and a strapless jumpsuit.
Alexander McQueen's creative director Sarah Burton said about the ethos of the brand still being about presenting a cutting edge but brutally simple style: "Anatomy, anatomy of tailoring, anatomy of clothing…where (Alexander) started on Savile Row, revisiting construction of garments then tearing it apart and subverting it and turning it upside on its head.
"It feels smart in the times we live in – you want to feel put together and strong against such chaos."
Eva is seen in the campaign wearing a shimmery outfit with statement silver jewellery in a black-and-white shot, and a pinstriped black-and-white suit in another.
Liu wears a long belted leather coat in her photoshoot with a white shirt and leather tie, holding a Seal quilted bag in black.
In another, she's in a white shirt with a black tie with a strapless button-down bodice.
At the 2023 Cannes Film Festival, Elle wore a custom version of a crystal-encrusted dress from the McQueen brand's fall 2023 collection, but added her own touch by adding a voluminous pale-pink tulle skirt to the screening and opening of 'Jeanne du Barry', in which she starred alongside Johnny Depp.
In June, McQueen expanded its offerings into candles to sit alongside its ready-to-wear, accessories and fragrances.
The candle collection is made up of three scents – Ghost Flower, Pagan Rose and Savage Bloom – taking inspiration from juxtaposed ideas such as "light and darkness, innovation and tradition and strength and fragility," according to the brand.
Also in June, the late Lee Alexander McQueen, who hanged himself aged 40 in 2010, was honoured with a blue plaque at his childhood home in east London.