Taylor Swift gushes it was 'unreal' to win 10 prizes at 2023 Billboard Music Awards
Taylor Swift broke records and scooped 10 prizes at this year's ceremony and admitted it felt "unreal".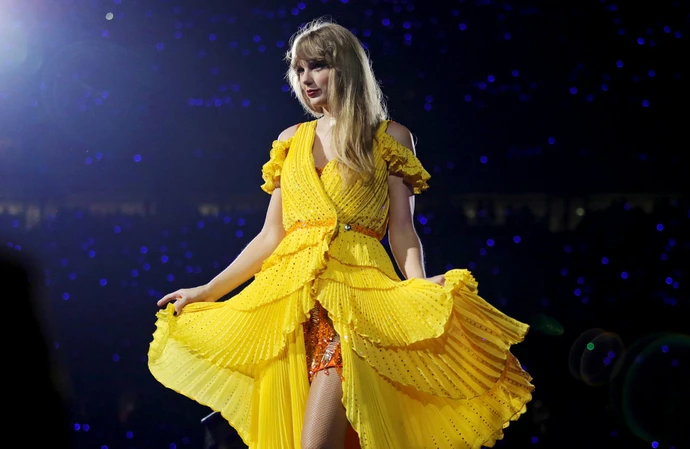 Taylor Swift gushed that it was "unreal" to win 10 prizes at the 2023 Billboard Music Awards.
The 'Karma' hitmaker won 10 prizes, including Top Artist, Top Female Artist and Top Billboard 200 Artist, and was the biggest female winner of the night.
She is now tied with Drake, who scooped five prizes at Sunday's (19.11.23) ceremony at Las Vegas' MGM Grand Garden Arena, as the artist with the most wins in the Top Artist category.
The 33-year-old superstar dedicated the "unreal" wins to her loyal Swifties.
In her pre-recorded acceptance speech filmed on her 'Eras Tour', she gushed: "Well, this is unreal. The fact that you guys have given me 10 Billboard Awards — I'm talking to the fans, specifically — none of this happens without you.
"The fact that you guys have given me 10 Billboard awards, I'm talking to the fans specifically, none of this happens without you.
"Billboards base everything off of what you are listening to and what you're passionate about and I'm so honoured that this year you made the tour – The Eras Tour – so magical. You went and saw the movie, you cared about my re-recordings. I just like – I love you so much, I feel like the luckiest person in the world to have you in my corner and caring about the music that I make so thank you, thank you, thank you, thank you ten million times for this."
US country star Morgan Wallen was the biggest winner of the night, claiming 11 prizes, including Best Male Artist and Best Country Male Artist.
'One Thing At A Time' was named both Top Billboard 200 Album and Best Country Album.
Morgan's song 'Last Night' dominated, taking Top Hot 100 Song, Top Streaming Song and Best Country Song.
The 30-year-old musician also performed '98 Braves', which is a tribute to Major League Baseball's Atlanta Braves, who, in 1998, won 106 games and made it through to the World Series, but lost to the Padres in six games.
He was introduced on stage by pitchers Tom Glavine and John Smoltz from the 98 Braves.
Referencing the book '98 Braves' by Josh Miller, John Byron and Travis Wood, Morgan said: "Like the song says, 'You win some, you lose some.'"
He continued about his lack of wins at this year's CMA Awards: "The last awards show I went to, we came home empty-handed. This one, I don't have enough hands for them all. So either way, I promise I'm gonna stay the same, whether we come home with 10 or zero. I'm gonna give y'all my all, every single night and every time I go into the studio. … All these awards are really, it's for my fans. So thank you guys so much."
He added: "You took a boy from east Tennessee, driving a two-door Toyota Tacoma, and turned me into one of Billboard's top artists. God bless y'all."
Mariah Carey was presented with a special award by her 12-year-old twins Moroccan and Monroe.
The 54-year-old pop diva was handed the Chart Achievement Award for the timeless 1994 festive hit 'All I Want For Christmas', which she also performed.
The Yuletide tune is the first song in Billboard history to lead the Hot 100 charts across five distinct years and the only song to rain in more than two individual years.
Mariah said: "Thank you babies. Thank you. Thank you so much. I couldn't ask for better presenters than Roc and Roe. Thank you guys. Alright well, I just want to say Billboard has been an integral part of my life for a very long time now. Even though I don't acknowledge time, I kind of have to admit that some of my most memorable times in my career are connected to Billboard and the BBMAs. One thing I really have to say is that I'm so grateful for the fact that my fans have been here with me through the hits, the misses, the No. 1 and the bubbling unders. I love you so much. This award is particularly special to me because the song itself changed my entire life. When I first sat down to write 'All I Want For Christmas Is You'. I never could have imagined that I would be standing here three months later accepting a special award for it okay, so I just want to say thank you to everyone who's allowed this song to be part of their holiday soundtrack each year. I'm so honoured to be receiving this award for this little songs chart achievements but the greatest achievement for me is being here with all of you and feeling the love that only music can generate. Thank you so much!"
SZA, NewJeans, Zach Bryan and BTS' Jungkook also won prizes, with the latter earning his first solo BBMA for Top Global K-Pop Song' for 'SEVEN' featuring Latto.
This year, the ceremony was live-streamed instead of being televised.
Top Artist: Taylor Swift
Top New Artist: Zach Bryan
Top Male Artist: Morgan Wallen
Top Female Artist: Taylor Swift
Top Duo/Group: Fuerza Regida
Top Billboard 200 Artist: Taylor Swift
Top Hot 100 Artist: Morgan Wallen
Top Hot 100 Songwriter: Taylor Swift
Top Hot 100 Producer: Joey Moi
Top Streaming Songs Artist: Morgan Wallen
Top Radio Songs Artist: Taylor Swift
Top Song Sales Artist: Taylor Swift
Top Billboard Global 200 Artist: Taylor Swift
Top Billboard Global (Excluding U.S.) Artist: Taylor Swift
Top R'n'B Artist: SZA
Top R'n'B Male Artist: The Weeknd
Top R'n'B Female Artist: SZA
Top R'n'B Touring Artist: Beyoncé
Top Rap Artist: Drake
Top Rap Male Artist: Drake
Top Rap Female Artist: Nicki Minaj
Top Rap Touring Artist: Drake
Top Country Artist: Morgan Wallen
Top Country Male Artist: Morgan Wallen
Top Country Female Artist: Taylor Swift
Top Country Duo/Group: Zac Brown Band
Top Country Touring Artist: Morgan Wallen
Top Rock Artist: Zach Bryan
Top Rock Duo/Group: Arctic Monkeys
Top Rock Touring Artist: Coldplay
Top Latin Artist: Bad Bunny
Top Latin Male Artist: Bad Bunny
Top Latin Female Artist: Karol G
Top Latin Duo/Group: Fuerza Regida
Top Latin Touring Artist: Karol G
Top Global K-Pop Artist: NewJeans
Top K-Pop Touring Artist: Blackpink
Top Afrobeats Artist: Burna Boy
Top Dance/Electronic Artist: Beyoncé
Top Christian Artist: Lauren Daigle
Top Gospel Artist: Kanye West
Top Billboard 200 Album: Morgan Wallen, 'One Thing at a Time'
Top Soundtrack: 'Barbie: The Album'
Top R'n'B Album: SZA, 'SOS'
Top Rap Album: Drake and 21 Savage, 'Her Loss'
Top Country Album: Morgan Wallen, 'One Thing at a Time'
Top Rock Album: Zach Bryan, 'American Heartbreak'
Top Latin Album: Bad Bunny, 'Un Verano Sin Ti'
Top K-Pop Album: Stray Kids, '5-STAR'
Top Dance/Electronic Album, Beyoncé, 'RENAISSANCE'
Top Christian Album, Anne Wilson, 'My Jesus'
Top Gospel Album, Maverick City Music x Kirk Franklin, Kingdom Book One
Top Hot 100 Song: Morgan Wallen, 'Last Night'
Top Streaming Song: Morgan Wallen, 'Last Night'
Top Radio Song: Miley Cyrus, 'Flowers'
Top Selling Song: Taylor Swift, 'Anti-Hero'
Top Collaboration: Metro Boomin, The Weeknd, 21 Savage, 'Creepin''
Top Billboard Global 200 Song: Miley Cyrus, 'Flowers'
Top Billboard Global (Excluding U.S.) Song: Miley Cyrus, 'Flowers'
Top R'n'B Song: SZA, 'Kill Bill'
Top Rap Song: Drake and 21 Savage, 'Rich Flex'
Top Country Song: Morgan Wallen, 'Last Night'
Top Rock Song: Zach Bryan, 'Something in the Orange'
Top Latin Song: Eslabon Armado x Peso Pluma, 'Ella Baila Sola'
Top Global K-Pop Song: Jung Kook ft. Latto, 'Seven'
Top Afrobeats Song: Rema and Selena Gomez, 'Calm Down'
Top Dance/Electronic Song: David Guetta and Bebe Rexha, 'I'm Good (Blue)'
Top Christian Song: Brandon Lake, 'Gratitude'
Top Gospel Song: CeCe Winans, 'Goodness of God'
Chart Acheivement Award: Mariah Carey, 'All I Want for Christmas Is You'