Take That announced for Radio 2 In Concert and BBC Two's Reel Stories
Take That will perform for a handul of lucky fans at Broadcasting House and recall the ups and downs of the past 30 years.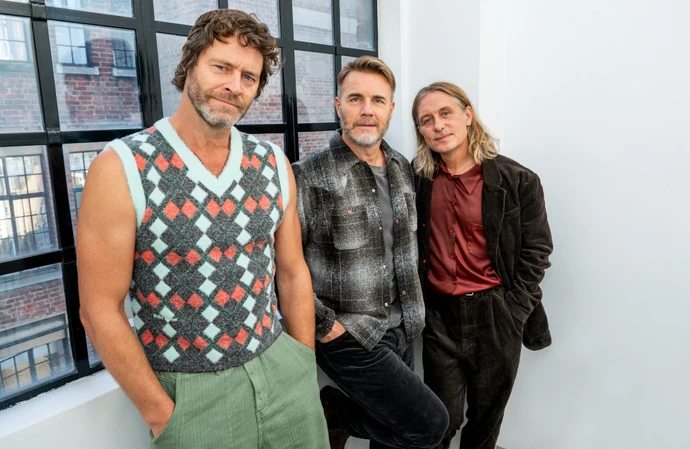 Take That have announced a Radio 2 In Concert gig and their own episode of BBC Two's 'Reel Stories' for November.
The 'Shine' hitmakers - Gary Barlow, Howard Donald and Mark Owen - are set to perform an intimate gig at the BBC Radio Theatre at Broadcasting House and also be interviewed in-depth by Dermot O'Leary about their story so far.
Take That - formerly also comprising of Robbie Williams and Jason Orange - said: "We can't wait for Radio 2 In Concert. It's such an honour to be asked to play such a prestigious show. At the heart of things, it's a special and intimate show, but to also know how many fans will be tuning in from home – it takes the experience to another level. We are so excited to play songs from our new album live for the first time ever and of course revisit old favourites from the past. And the cherry on top is getting to see the wonderful Jo Whiley. We love watching Reel Stories and of course couldn't say no to our old friend Dermot. Reliving the last 30 years we've spent together really was a journey. A lot of laughs, remembering times we thought we'd forgotten, possibly purposefully! It never ceases to humble us how fortunate we are to have had such an accomplished career as a band."
The concert will be broadcast on Radio 2 and BBC Sounds on November 23, and soon after on BBC Two. Tickets will be allocated via ballot www.bbc.co.uk/radio2inconcert. Registration is open now and closes at 9pm on, November 6.
Jo Whiley, host of Radio 2 In Concert, said: "Take That's Gary, Howard and Mark are quite simply national treasures. Their music is the soundtrack to so many of our lives and their live performances never disappoint, so I can't wait to see them perform in this exclusive Radio 2 concert."
Jeff Smith, Head of Music for Radio 2, added: "It's Radio 2's mission to bring live and exclusive music sessions from the world's most loved artists to our audience, so I'm thrilled that Take That will be delighting us with new material and some of their much-loved hits which we'll, of course, be singing along to in the fabulous surroundings of the Radio Theatre. You can hear on Radio 2 and BBC Sounds and soon after on BBC Two and BBC iPlayer."
As for what to expect from their 'Reel Stories' episode, a press release teased: "Across an hour of reflection, nostalgia and surprises, the band watch back key performances, events and moments from the last 30 years, re-living their highs and lows in intimate detail."
It continued: "Dermot talks in depth about the emotional reunion with their fans on their 2006 comeback tour, recording their first album back together, the 2009 reunion with Robbie, and their status as British music icons, headlining King Charles III's Coronation Concert. Gary, Mark and Howard watch these moments back and discuss their rise back to the very top, revealing the secrets of how it happened, why they did it and where they found the belief to do what no one thought possible."
Dermot added: "I've interviewed Take That many times before, and am glad to call them my friends, but we've never properly sat down for an extensive chat. They were honest, funny, wise and frank. It was a joy to spend time with them and I hope not only Take That fans, but anyone who loves music enjoys it."
Their 'Reel Stories' episode will be broadcast on BBC Two in November and will be available on BBC iPlayer.
Pet Shop Boys, Noel Gallagher, Dave Grohl, Kylie Minogue, Rod Stewart, Sting, and their former bandmate Robbie have previously been interviewed for 'Reel Stories'.