Bjork will receive the Best Live Performance prize at the 2023 AIM Awards
The 2023 AIM Awards take place next month in London.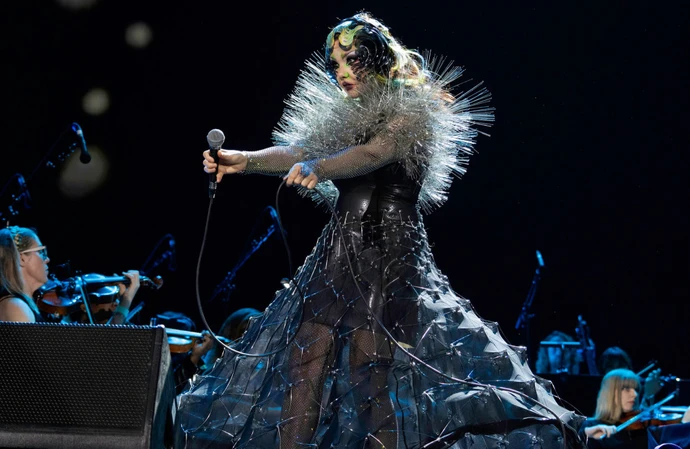 Björk will receive the Best Live Performer prize at the 2023 AIM Awards.
The Icelandic star - who is known for her visually mind-blowing sets and has received rave reviews for her 'Cornucopia' tour - beat off competition from Beabadoobee, Muna and Babymetal to become the overall winner in the public-voted category.
As well as the 'It's Oh So Quiet' being unveiled as the recipient of the top prize, it was also revealed that 'Chaise Lounge' hitmaker's Wet Leg are among those in contention for the PPL Award for Most Played New Independent Artist.
The indie group were big winners at last year's bash, along with Stormzy, Nova Twins and Rina Sawayama.
Raye and Shygirl lead the nominations this year with three apiece.
Speaking about the shortlist, Silvia Montello, CEO at AIM, said: "The AIM Independent Music Awards are a night to celebrate the best of the UK's independent music community, and to showcase its triumphs and innovations. We are proud to be able to honour the diversity and talent across the UK 's independent labels, artists, entrepreneurs and champions and it's fantastic to see continued public recognition of Björk's trailblazing live shows!"
The ceremony will take place on September 26 at London's Roundhouse.
The 2023 AIM Awards shortlist:
Diversity Champion
Charisse Beaumont - Black Lives in Music
Best Live Performance
Björk (One Little Independent)
PPL Award for Most Played New Independent Artist
AntsLive (Payday Records, Trademark Records)
John Summit (Off The Grid Records)
Surya Sen (Skint Records)
Vibe Chemistry (DnB Allstars Records)
Wet Leg (Domino Records)
Music Entrepreneur of the Year
Alex Brees - Un:hurd
Caius Pawson - Young / Space
Jess Kangalee - Good Energy PR
Keturah Cummings - Forward Slash
Yasin El Ashrafi - HQ Familia
Best Boutique Label
Chess Club
Glasgow Underground
Houndstooth
Rough Bones
So Young Records
Best Independent Label
Defected Records
Forever Living Originals
Hospital Records
One Little Independent
Transgressive
Best Creative Campaign
Because Music (Shygirl - 'Nymph')
Dirty Hit (Rina Sawayama - 'Hold The Girl')
Human Re Sources (RAYE - 'My 21st Century Blues')
Ninja Tune (Young Fathers - 'Heavy Heavy')
Partisan Records (Ezra Collective - 'Where I'm Meant To Be')
XL Recordings (Yaeji - 'With A Hammer')
UK Independent Breakthrough
Ezra Collective (Partisan Records)
I.Jordan (Ninja Tune)
Overmono (XL Recordings)
Shygirl (Because Music)
Suki Waterhouse (Sub Pop)
Best Independent Track (Meta)
Connie Constance - 'Hurt You' (Play It Again Sam)
Enny - Charge It (FAMM)
Four Tet - 'Three Drums' (Text Records)
Makaya McCraven - 'Dream Another' (XL Recordings)
Overmono - 'Good Lies' (XL Recordings)
Raye, 070 Shake - 'Escapism' (Human Re Sources)
Shygirl - 'Shlut' (Because Music)
Sudan Archives - 'Selfish Soul' (Stones Throw Records)
Yeah Yeah Yeahs - 'Spitting Off The Edge of The World' feat. Perfume Genius (Secretly Canadian)
Yves Tumor - 'Echolalia' (Warp Records)
Best Independent EP/ Mixtape
Bellah - 'Adultsville' (Base 'N' Rebulz X Marathon Music Group)
ENNY - 'We Go Again' (FAMM)
Jessica Winter - 'Limerance' (Lucky Number)
Saint Joshua - 'EP2'(Ditto Music)
yunè pinku - 'Babylon IX' (Platoon)
Best Independent Album
Avelino - God Save The Streets (More Music Records/ OddChild Music)
Kelela - Raven (Warp Records)
Little Simz - No Thank You (Forever Living Originals)
Nova Twins - Supernova (Marshall Records)
Obongjayar - Some Nights I Dream of Doors (September Recordings)
Oliver Sim - Hideous Bastard (Young)
Raye - My 21st Century Blues (Human Re Sources)
Rina Sawayama - Hold The Girl (Dirty Hit)
Shygirl - Nymph (Because Music)
Wu-Lu - LOGGERHEAD (Warp Records)
Best Independent Remix
Sega Bodega Remix (One Little Independent) - Björk - 'Ovuke (feat. Shygirl)'
Soulwax Remix (Deewee / Because Music) - Charlotte Adigéry Bolis Pupul - 'Cliche'
Nu:Tone Remix (Hospital Records) - GLXY - 'Butterfly Effect (feat. Hugh Hardie Visionobi)'
Jamie XX remix (Young) - Oliver Sim - 'GMT'
Boys Noize (Secretly Canadian) - Yeah Yeah Yeahs - 'Wolf'
One To Watch (BBC Music Introducing)
Jessica Winter (Lucky Number)
Juice Menace (Supernature)
Flowerovlove (FAE GRP)
Laughta (MDLBEAST)
Master Peace (PMR)
Best Independent Video (Vevo)
Ezra Collective - 'No Confusion ft. Kojey Radical' (Partisan Records)
Kelela - 'Enough For Love' (Warp Records)
Obongjayar - 'I Wish It Was Me (Live)' (September Recordings)
Raye, 070 Shake - 'Escapism.' (Human Re Sources)
Wesley Joseph - 'Monsoon' (EEVILTWINN)