James Bay is back with a new guitar ballad
James Bay has released the new song 'Goodbye Never Felt So Bad' about missing family on the road.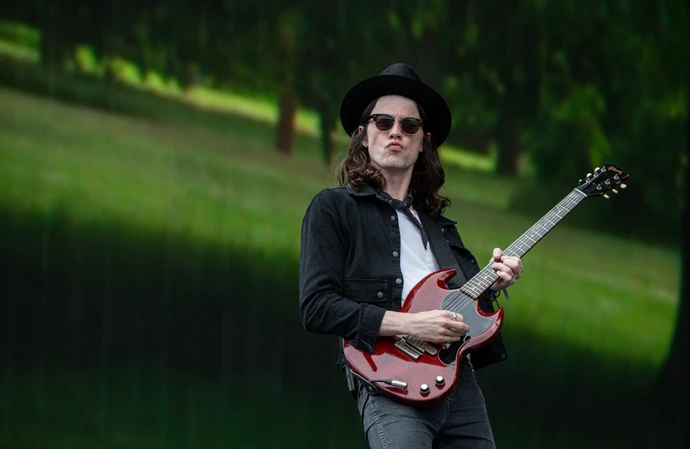 James Bay has returned with the new song 'Goodbye Never Felt So Bad'.
The 'Hold Back The River' hitmaker – who became a father for the first time to daughter Ada, whom he has with his wife Lucy, in October 2021 - has been testing the waters by playing the tune for his fans at his live shows, and it went down so well, he decided to drop it.
In a statement, James said: "Goodbye Never Felt So Bad is a song about how crazy it can feel to say goodbye. There's rarely ever anything good about it. I say goodbye to the people I love constantly; it comes with the territory of my work. I'm always travelling. It's an amazing job but everything in life has its upsides and downsides.
"This summer I started playing the song live, way before I even knew it would be released. I just wanted to share new music for the thrill of it. You can't ask an audience to like something, but every time my fans put their hands in the air, clapped along and by the last chorus they were singing the words. It's been unbelievable. I'm really excited to share the recording with the world. I wrote it with my mate, the brilliant Phil Plested. I hope you love it!"
It's the 32-year-old singer-songwriter's first new music since his 2022 LP 'Leap'.
Earlier this year, James revealed he's in the early stages of his next album and is planning to showcase more of his "guitar playing".
The 'Wild Love' hitmaker is going back to his roots after enjoying a rawer approach to playing his acoustic guitar as he did on open-mic nights when he was starting out.
He explained: "With all my heroes, a lot of my favourite work of theirs was recorded in the first or second take. It had that sort of carefree [nature], 'Let's just do it. Emote and move on to the next thing.' I'm trying to do that at the moment."
He continued in an interview with Guitar.com: "[Recording an album] piece by piece by piece? I've done that a lot. I totally respect it, it really worked for me in the past. But lately, I've been standing in front of a microphone with my acoustic guitar, like I used to do on an open-mic night. I'm just singing the song in. No click. Nothing. Just a performance. And it's fun! It's sort of freeing to not have to sort of stress over all the minute details."
James insisted the lyrics and the song itself are still important to him, but he really wants to home in on his guitar skills.
He added: "I do see myself moving towards showcasing more guitar playing in my songs. So maybe [fans' perceptions] will change as time goes by … but it depends on what the songs dictate.
"The songs are still the most important thing to me, what the melody is doing, what the lyrics are saying, the performance and the delivery of the song. But I will always stand up on stage with a guitar in my hand, so I think, in the studio, I'm gonna give myself a little bit more to do with the guitar."