SUGA: I want BTS to be together until we die
SUGA has gushed about how much he loves his BTS bandmate and hopes they can remain friends for ever.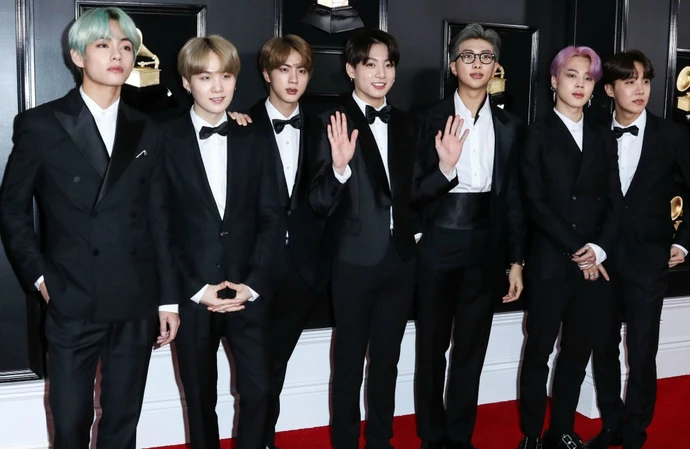 SUGA hopes BTS will be together "until we die".
The K-Pop boy band are currently on hiatus while they focus on solo projects and embark on military service, and the 30-year-old rapper is looking forward to the day they reunite and hopes they have a long future ahead, but even if they don't, he wants to be around his bandmates for life.
Speaking to bandmate RM, 28, on the latest episode of his 'Suchwita' podcast, he said: "I dream of a future where the seven of us are together until we die. I'd like for the seven of us to be together for a long, long time."
"I don't know how much more time will pass, or how long we will [continue to] go forward, but even when we get old and stop [promoting as an act] I hope BTS can all be together."
SUGA released his debut album, 'D-Day', and the Disney+ documentary, 'SUGA: Road to D-Day', last week.
And the K-Pop star is the first member of the South Korean boy band set to embark on a solo jaunt across the world.
And he recently teased that it's "a tour beyond what everyone can imagine."
He told NME: "This tour will show Suga and Agust D as an artist, and Min Yunki as a person.
"I'll just put it like this, 'SUGA, Agust D and Min Yunki's tour that will burn it up'. I dare say it'll be a totally different tour from previous BTS tours, and a tour beyond what everyone can imagine."
The 'SUGA Agust D Tour' takes in North America, Indonesia, Thailand, Singapore, South Korea, and Japan.
BTS - also including Jimin, V, Jungkook, J-Hope and Jin - formed in 2010.
The Grammy-nominated band's hiatus was announced in June.