Blink-182 and EDM stars to close out Coachella
Blink-182 have replaced Frank Ocean as Coachella headliners and their set will be followed by a performance from Skrillex, Fred again.., and Four Tet.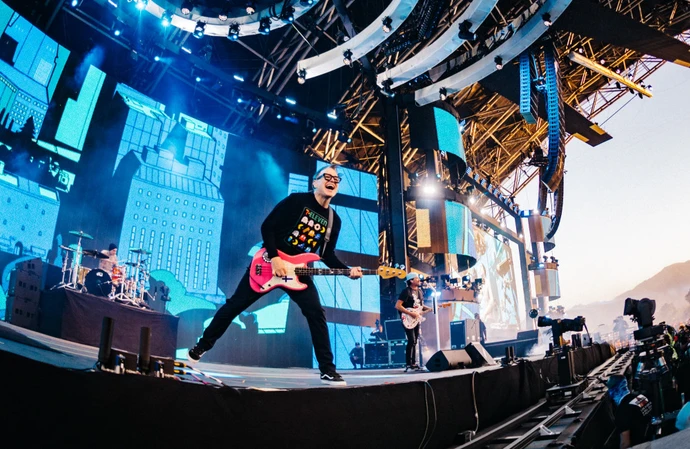 Blink-182 have replaced Frank Ocean as Coachella headliners.
The 'All the Small Things' hitmakers have stepped in to top the bill during the second weekend of the festival in Indio, California, after the rapper pulled out due to injury, and the rockers' hour-long set will be followed by a special performance from Skrillex, Fred again.. and Four Tet, who will take to the main stage at 10.25pm on Sunday (23.04.23).
Sharing the set times with a TBC by the then-unannounced EDM slot, Coachella wrote on Twitter: "Oh, high Weekend 2."
Blink-182 added on Instagram: "See you Sunday @coachella."
Meanwhile, Fred again... teased his performance on Instagram with two cryptic posts on his Story.
In one, he wrote: "okay I can't believe I'm saying this again, but does anyone know where Sonny [Skrillex] is?(sic)"
It was followed by another of him and Four Tet in a car with the caption: "Unexpected journevsssssss [sic]."
Sources told Billboard the trio will play in the round on the satellite stage of the main stage, which was originally built as an ice rink to be used during Frank's performance last weekend, though he ultimately didn't use it.
The first weekend of the festival saw Blink-182 play their first live show together since 2014, drawing a huge crowd for their surprise set in the Sahara Tent.
Meanwhile, it was revealed earlier this week that Frank had been forced to withdraw after fracturing his leg.
A rep for the singer told Variety: "Frank Ocean will not be performing at weekend two of Coachella, after suffering an injury to his leg on festival grounds in the week leading up to weekend one.
"Frank Ocean was unable to perform the intended show but was still intent on performing, and in 72 hours, the show was reworked out of necessity.
"On doctor's advice, [Frank] is not able to perform weekend two due to two fractures and a sprain in his left leg."
The singer performed at the festival on Sunday (16.04.23), but he's acknowledged that his eagerly-awaited set was "chaotic".
He said in a statement: "It was chaotic. There is some beauty in chaos. It isn't what I intended to show but I did enjoy being out there and I'll see you soon."
Frank was able to take to the stage over the weekend, despite the injuries to his leg.
However, his set was riddled with different problems, including Frank starting his performance an hour later than scheduled before ending the show early because of the festival's curfew.