Emily Ratajkowski feels sexiest when her bum is "thicker' than normal
Despite being famed for her toned physique, Emily Ratajkowski says she feels sexiest when her bum is bigger than normal.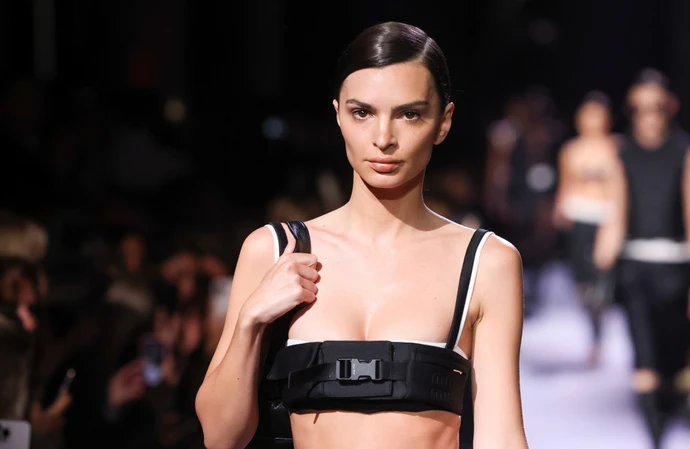 Emily Ratajkowski feels sexiest when her bum is bigger than normal.
The 31-year-old model, who has claimed she eats "a lot" despite her toned physique, listed a larger  "booty" among a series of other things that made her feel most physically desirable.
She said when asked in a question and answer session for the latest edition of HommeGirls magazine what made her feel "hot": "A tan. A lot of highlighter. Red wine. The right music.
"When my booty is a little thicker than usual. Lip liner and lip gloss. A good pair of boots."
The model also delved into her deeper side, saying her favourite writers were Hilton Als, Leslie Jamison, Lace M Johnson, Toni Morrison and Alexander Chee.
She added she would love to ask Joan Didion about "grief, writing, and about what she really thought about Eve Babitz (the hedonistic artist.)"
Emily has said she is not a fitness freak and does not count calories to stay in shape.
She said in a 2017 appearance on 'Jimmy Kimmel Live!': "I'm someone who eats. A lot."
Emily insisted people think she is "being cute" when she makes the claim, and when Jimmy told her some people have a high metabolism, the 'Gone Girl' actress replied: "I guess so, 'cause you should see my refrigerator, it's pretty insane... it's basically Indian food, Thai food, and preferably when I'm horizontal in bed.
"I've had people come over and watch me eat and say, 'I've lost all respect for you.'"
Emily also told Elle magazine in 2014 about her love of meat: "You know, I'm a carnivore. I really like to eat meat. I crave iron so I am definitely not the kind of person who you will find eating a salad."
But she added: "I like to keep it really balanced to give my body energy and also be healthy. I cook a lot, so that really helps: You know how much salt and sugar and all of that kind of stuff you are putting in your body."